Antonio Sanchez continues his "Birdman" flight on his new release with his band Migration, "The Meridian Suite", 1 of the 9 new releases in the Jazz 88.3 Music Library for June 6, 2015.
The drummer, who was snubbed by the Academy of Motion Picture Arts and Sciences for his soundtrack to the award winning picture "Birdman", performs an hour-long suite inspired by his movie soundtrack on his new album. Check all the new music debut on
The New Jazz Thing with Vince Outlaw each Monday from 6 to 8 PM PT
.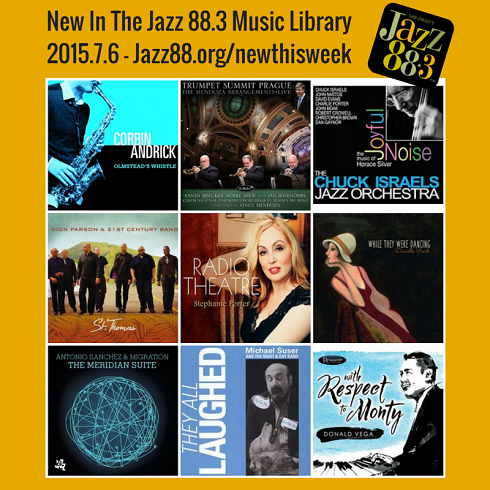 CORBIN ANDRICK – "OLMSTEAD'S WHISTLE"
RANDY BRECKER - BOBBY SHEW - JAN HASENÖHRL – "TRUMPET SUMMIT: PRAGUE"
CHUCK ISRAELS JAZZ ORCHESTRA – "JOYFUL NOISE"
DION PARSON & THE 21ST CENTURY BAND – "ST. THOMAS"
STEPHANIE PORTER – "RADIO THEATRE"
DANIELLE REICH – "WHILE THEY WERE DANCING"
ANTONIO SANCHEZ & MIGRATION – "THE MERIDIAN SUITE"
MICHAEL SUSER – "THEY ALL LAUGHED"
DONALD VEGA – "WITH RESPECT TO MONTY"
READ THE FULL ARTICLE
for links to artists websites, release reviews, and additional listening notes from the Jazz 88 Music staff....