April 7, 2015 marks the 100th anniversary of the birth of one of the most influential Jazz artists in the history of the music, Billie Holiday. The impact of her music is something that Jazz 88.3 on-air hosts try to communicate when they individually hand-program their daily and weekly shows...As Jazz 88.3's Sue Palmer says,
"What a force Billie was!!!"
To mark the occasion, some of the on-air hosts at Jazz 88.3 have contributed thoughts and some of the digital resources they use when individually programming their music shows for their Jazz 88.3 listeners and supporters.
Jazz 88.3 hosts today will be remembering Lady Day by sharing the great music she has made and influenced with you, so
please LISTEN LIVE
by radio, cable, computer, smartphone wherever you may be.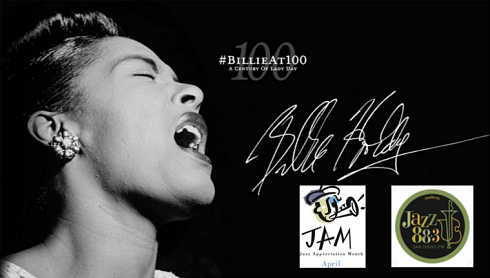 READ THE FULL ARTICLE
for thoughts, links, video's, and more...and then
SHARE YOUR THOUGHTS ON LADY DAY
via a
COMMENT
below or on any of of
SOCIAL MEDIA platforms.
"The most powerful song Billie ever did was "Strange Fruit."" VO Note: Here is an NPR story on the man who wrote the original poem Abel Meeropol.
"There are many songs Billie Holiday did that are meaningful to me, both as a person and as a broadcaster. Songs that I think are important for people to hear and know about. But, the one song that always stands out for me is "Strange Fruit." The song was released in 1939, long before Martin Luther King, Jr. was leading marches for equality. It's an extremely bold statement on the vicious brutality of racism. There is no way to escape it's haunting melody and the power of the words. Her interpretation of the song is the most visceral that I have ever heard. Charlie Shaver's trumpet open forebodes the words to come, but it's Billie voice, her clear and unflinching presentation of the lyrics that allows the song to penetrate, resonate, and linger long after the final note has rested. When I think about the time in American history when she recorded and released that song, it makes me feel very proud for her and her bravery. She literally could have been killed. She took the risk, for the music and for the message. She may be judged for any weaknesses in her spirit or character, but this song reveals the grit, the compassion, and the sense of justice that lived in her."
"While Jazz devotees know about Lady Day, the masses were introduced to Billie Holiday thanks to the movie Lady Sings The Blues. Thanks Diana Ross."
Billie's tune "God Bless The Child", which has an interesting story behind it, became huge after rock band Blood, Sweat, and Tears covered it. VO Note: Renowned Jazz Trumpter Lew Soloff who plays the killer solo here and played with BST for several years, recently passed away suddenly.
"I always think of "Strange Fruit." It was one of the first songs to deal with racism in the South."
"When I play her music, I think about how young she was when she died." VO Note: Lady Day was 44 when she passed July 17, 1953.
I always love the tune she recorded with Benny Goodman, "Your Mother's Son-in-Law", her first recording, in the early '30's. Recorded it with my band also. What a force Billie was!!!
""Lady Sings The Blues" was one of the first jazz autobiographies I read. I believe it required reading for all jazz lovers."
"I remember hearing Blood, Sweat and Tears doing "God Bless The Child", with a very jazz break in the middle of it (featuring the late Lew Soloff), only later did I find out it was co-authored by Lady Day."
""What A Little Moonlight Can Do" has got to be one of the best jazz vocals ever recorded. Many songs by Billie are definitive versions..."Yesterdays"..."My Man"..."Lady Sings The Blues". "
Lorraine Feather, great Jazz vocalist and composer and daughter of Jazz impresario Leonard Feather, is the godchild of Billie Holiday.

VO Note 1: According to Wikipedia, Billie toured Europe with a package put together by Leonard Feather and became a family friend.
VO Note 2: Billie Holiday had no children of her own, but was god-mother to two, Billie Lorraine Feather and Bevan Dufy, son of William Dufty (who happened to be the ghost writer behind the Holiday biography "Lady Sings The Blues".
Long time Jazz 88.3 host and operations person,
Ernie Denise
,
"What really got me into her music was when we got that 10 volume set, "The complete B.H. on Verve 1945-59." It wasn't any one or two tunes, it was the musicians that backed her up. Ben Webster, Benny Carter, Sweets, Roy Eldridge, Jimmy Rowles, Barney Kessel, Milt Hinton, Philly Joe. I used to even play some of the instrumentals, without Lady Day, but was always fond of Comes Love, Yesterday's and Just Friends to name but a few.
Show your appreciation for Jazz 88.3 and it's unique, host-driven programming of this great American art form Jazz by
GIVING A GIFT TODAY!
Thanks!
Update...here are some additional contributions from Jazz 88 listeners, San Diego Jazz Musicians, and more....Thanks for contributing!
Long-time San Diego vocal mainstay,
Coral MacFarland Thuet
commented on our Facebook page:
"The first song I ever heard her sing was "The Man I Love." I remember exactly where I was, what I was wearing and who I was with, the time of day and how I felt. She touched me deeply. The direction of my life changed that moment. This was deep, all heart, all love."





Lawrence Lebo, blues roots and jazz artist, on our Facebook page: "Billie's signature "behind the beat" phrasing shows the jazz vocalist how to become an identifiable instrument within the jazz musical unit.