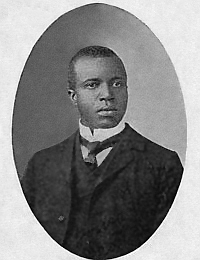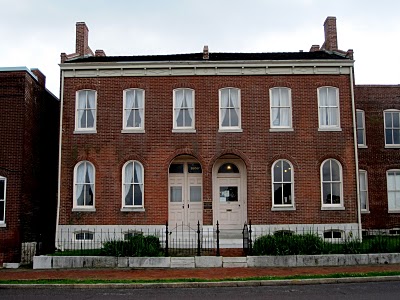 LEFT: Scott Joplin, "The King of Ragtime"; RIGHT: Scott Joplin House in St. Louis, Missouri, where the composer lived from 1900 to 1903. It is preserved as a State Historic Site.
The June 23, 2013 edition of
Johnny D's Jazz Journal
was the third all-new installment of a show I call "A Trip to the Keys: Jazz on the Family of Keyboard Instruments." Naturally, such a show will prominently feature the most elegant, most expressive, most dynamic of keyboard instruments, the acoustic piano, but I always look forward to digging up examples of jazz played on organ, harpsichord, celeste, clavichord, synthesizer, and accordion or bandoneon.
It was while programming this particular show that I gave some long-overdue thought to Scott Joplin and his under-appreciated role in creating America's first indigenous musical genre — ragtime. We like to think of jazz as
the
truly American musical art form, but ragtime predated jazz and still is performed, so it deserves to be celebrated as America's first-born. And Joplin is its undisputed progenitor, a prolific composer and multi-instrumentalist who wrote 44 original ragtime pieces, one ragtime ballet, and two operas. Yet he remains one of the more enigmatic figures in American music history, and even those with a professed affinity for his music would be hard-pressed to cite even one significant aspect of his life.
To fully appreciate ragtime's early appeal, it's important to understand the cultural milieu from which it emerged. When most people think of the French term
fin de siècle
("end of the century"), they imagine the time immediately preceding and following the year 1900. Socioculturally speaking, however, it refers to the period of the 1880s and 1890s, and when
fin de siècle
is used as a modifier (e.g. "Aubrey Beardsley's illustrations were perfectly
fin de siècle
."), it specifically refers to the trendy mindset of the era, a complex combination of competing aesthetics — ennui, pessimism, cynicism, the belief that civilization and industrialization are inherently decadent, symbolist and/or naturalist art and literature, and the rise of the New Woman.
Out of this miasma came a jaunty sound that originated in the African-American communities of our major cities. A combination of marches, African-derived syncopation, and European classical music, its peculiar appeal lay in its "ragged" rhythms, and for a while it was called "ragged time" music. At first, ragtime was played mostly by all-black bands, but as it became popular throughout North America, it was appropriated by any number of ethnic groups and adapted to a variety of instrumentation. For some white musicians, ragtime became a vehicle for crude racial defamation and stereotyping.
Then along came a man so swaddled in mystery that we don't know exactly where or when he was born. Some sources decree that Scott Joplin was born in 1867 in Linden, Texas, while less assured historians are willing to settle for a guesstimation that he "probably" was born in the northeast area of Texas between June 1867 and mid-January 1868, and spent his formative years in the town of Texarkana, which straddles the Texas-Arkansas border. We do know that his father was a former slave, and that music was an important outlet among his extended family of laborers.
Legend has it that Scott taught himself to play piano in a white-owned home where his mother worked as a domestic. By age 20, Joplin had settled in Sedalia, Missouri, from where he frequently traveled as an itinerant musician, playing mostly cornet. He'd hit the road for extended periods, and upon his return he'd play piano at Sedalia's two social clubs for black men, the Maple Leaf and the Black 400. In 1899, Joplin published his original tune, "The Maple Leaf Rag", earning one penny per copy. Although it sold slowly at first, the challenging piece eventually became the greatest and most famous of piano rags.
But Joplin had bigger dreams. In 1903, he composed the opera,
A Guest of Honor
, based on Booker T. Washington's controversial, racially polarizing dinner with Teddy Roosevelt at the White House. He formed an opera company and mounted a tour, but when someone in the company stole the box office receipts, Joplin found himself unable to meet his payroll or to pay for the company's lodgings at a theatrical boarding house. All of his possessions, including his music from the opera, were confiscated.
Joplin persevered through a failed marriage and the early death of a second wife. In 1904, he traveled to St. Louis for the opening of the World's Fair. He'd written a rag for the event, "The Cascades", that was well received. In 1907, he published a second opera,
Treemonisha
; although the prestigious
American Musician and Art Journal
declared it "the most American opera ever composed," Joplin was unable to launch a profitable production. By 1916, he was terminally ill and died a year later, at age 50, in a mental institution, broke, suffering from syphillis-induced dementia, and all but forgotten. The advent of jazz made ragtime seem a quaint relic, and in spite of a brief revival of interest in the 1940s, it wasn't until the early 1970s that the music world got a taste of Joplinmania.
Even if you haven't seen the 1973 film,
The Sting
, starring Paul Newman and Robert Redford, chances are you've heard the rags that Marvin Hamlisch arranged for the soundtrack, or at least his rendition of Joplin's "The Entertainer", which was a mammoth, ubiquitous hit. The piece's appealing tunefulness and evocation of America's sepia-toned past was a welcome palliative for an America weary of the Vietnam War and reeling from revelations about the Watergate scandal. Hamlisch won an Oscar for his score, which some people felt was undeserved because, after all, he'd simply reworked music written many decades earlier by Joplin.
Actually, Hamlisch's subtle, supple interpretations were anything but simple; his deft use of
accelerando
and
ritardando
pushed and pulled at the music, giving it a rhythm akin to breathing. It would slow down and draw out the music's latent melancholy, then speed up and embody the optimism that was ragtime's counterpoint to
fin de siècle
cynicism. Hamlisch's arrangements ranged from solo piano to full band, thus cleverly and effectively outlining the variants of ragtime instrumentation. It was brilliant work.
Suddenly, Joplin was everywhere. A successful staging of Treemonisha made it to Broadway. His music was released on classical labels, thus giving it the artistic cachet Joplin had long craved. Pianists included his rags in their concert repertoires alongside Chopin and Tchaikovsky, delighting audiences with Joplin's infectious gaiety. In 1976, the Pulitzer Committee recognized Joplin's achievements by issuing a posthumous award for his contributions to American music. More than seven decades after he'd elevated a raggedy form of American "folk" music to the level of art, Joplin himself was elevated. He'd finally made it big, taking his rightful, permanent place in the public consciousness.
In my June 23 show, I aired the rag that started it all for Joplin and still is considered his best, "
The Maple Leaf Rag
". I took it from pianist Richard Zimmerman's 4-CD set,
Scott Joplin: His Complete Works
, released in 1994 on the Bescol label. Zimmerman is a musician who's also a magician. He has contributed a number of significant illusions to the world of magic that have been used by magicians for many years. He's also the only pianist to have recorded the complete works of "The King of Ragtime".
[If you missed the June 23, 2013 (3-5 p.m.) installment of
Johnny D's Jazz Journal
titled, "
A Trip to the Keys: Jazz on the Family of Keyboard Instruments
", you can hear it in archived form by signing up for Jazz88.3's online "Speakeasy" — the free, interactive online "club" that gives you access to on-demand, "Premium Content" and puts you on an exclusive list of people who have a chance at online giveaways.
Just click on the "Speakeasy" graphic on our home page at http://jazz88.org and provide an email address and password. KSDS won't send you anything and your info will not be shared or sold to anyone — it's just an extra benefit available to Jazz88.3 listeners. Once you're on the Speakeasy page, scroll down just a bit and you'll see a list of "Full Programs". My show is at the top of the right column. Just click on it and you're listening to that week's show.]