Jazz 88.3 Blog

Cecile McLorin Salvant awards us all with her latest release ("For One To Love"), in the last of 9 new discs being added to the Jazz 88.3 Music Library the week of July 27, 2015. Ms. Salvant has been anywhere a Jazz music award has been given in the last couple of years, including the 2015 Jazz Journalists Awards (Winner for both Best Female Vocalist and Up and Coming Artist of the Year), Downbeat Music Awards (63rd/2015 - Best Female Vocalist; 62nd/2014 - "WomanChild" (Mack Avenue) Best Jazz Album, Female Vocalist, Rising Star–Jazz Artist, Rising Star–Female Vocalist), and Grammy Awards (2014 - "WomanChild" Nomination Best Jazz Vocal Album). Her new release and all the other great new jazz music will be featured by all your favorite Jazz 88.3 hosts in the weeks to come...JAZZ LIVES AND GROWS!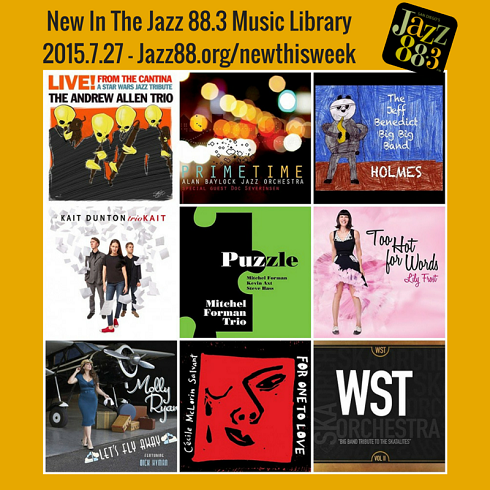 ANDREW ALLEN TRIO – "LIVE! FROM THE CANTINA"
ALAN BAYLOCK JAZZ ORCHESTRA – "PRIME TIME"
JEFF BENEDICT BIG BAND – "HOLMES"
KAIT DUNTON – "TRIO KAIT"
MITCHEL FORMAN TRIO – "PUZZLE"
LILY FROST – "TOO HOT FOR WORDS"
NICK MAZZARELLA - "ULTRAVIOLET"
RENT ROMU'S LIFE'S BLOOD ENSEMBLE - "THE OTHERWORLD CYCLE"
MOLLY RYAN – "LET'S FLY AWAY"
CÉCILE McLORIN SALVANT – "FOR ONE TO LOVE"
WESTERN STANDARD TIME SKA ORCHESTRA – "VOL.II"
READ THE FULL ARTICLE for links to artists websites, release reviews, and additional listening notes from the Jazz 88 Music staff....

The 2015 Jazz 88.3 Summer Jazz Workshop, supported by the Francis Parker School and House of Blues San Diego, presents it's class of high school students in a free concert this Saturday, July 25, 2015 at 10AM in House of Blues San Diego Music Hall.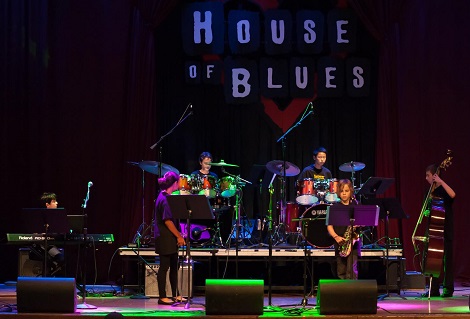 READ THE FULL ARTICLE
for more on the workshop and details about this Saturday's show…

UPDATE 2: The final 45 minutes of audio from the Carl Saunders Quartet is available as Jazz 88 Speakeasy Audio and is linked below, as is the Jazz Live interview with Carl and video we shot during the interview. We are really sorry about not being able to broadcast the concert LIVE, but hope that you can share in the joy of the evening through our Jazz 88 Speakeasy. Enjoy!




UPDATE 1

: Regrettably we are having

technical issues

for our Jazz Live broadcast. We are working on the issue and hope to go live from the Saville Theater as soon as we can.

Facebook Event: Carl Saunders at Jazz Live (SHARE IT!) READ ON

for Jazz Live Preview Audio, Artist Bios, Links, and more...

Teagan Taylor and her new release are "The Subject Of..." our Hour 2 (7-8PM PT) Interview, which also includes , debuts of the new jazz music getting added this week, preview of our Artist of the Week, Birthday and On This Day Upcoming Highlights, Jazz and Blues Calendar Preview, and more New Jazz Things! LIVE Monday, July 20, 2015, 6-8 PM PT @Jazz88 San Diego's Jazz 88.3 FM, Jazz88.org, and Apple/Android Apps to The New Jazz Thing @Jazz88 with Vince Outlaw
...Supported by Listener Contributors like YOU and...YOUR BUSINESS (
learn more about underwriting The New Jazz Thing!
).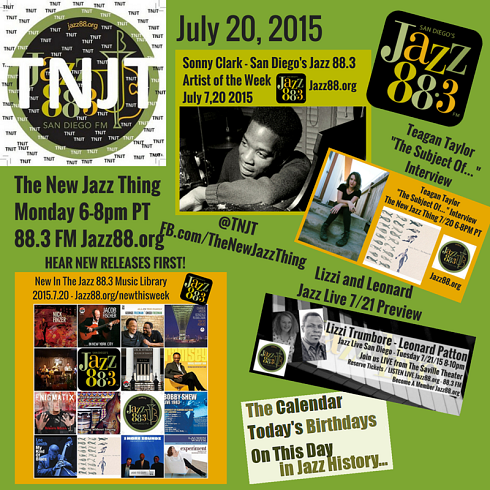 READ THE FULL ARTICLE for links about Teagan Taylor, this week's new releases and other Jazz news items on the show tonight...

San Diego Jazz continues to expand in all directions including the atmospheric pop-jazz on Teagan Taylor's 4th release "The Subject Of...", one of the 14 new releases into themusic library at Jazz 88.3 the week of July 20, 2015. She is in great company with new music from Freeman brothers (George and Chico), Charlie Haden, Bobby Shew, Ramsey Lewis, Dick Hyman, and Jazz Live San Diego alum Henry "Skipper" Franklin (as 1 of the 3 More Sounds). Check all the new music debut on The New Jazz Thing with Vince Outlaw each Monday from 6 to 8 PM PT.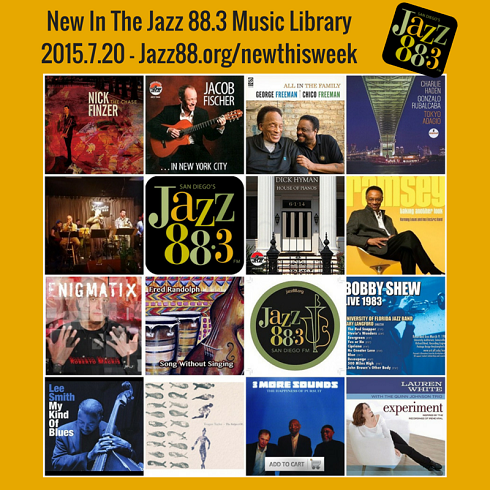 NICK FINZER – "THE CHASE"
JACOB FISCHER – "IN NEW YORK CITY"
GEORGE FREEMAN / CHICO FREEMAN – "ALL IN THE FAMILY"
CHARLIE HADEN & GONZALO RUBALCABA – "TOKYO ADAGIO"
HELL'S KITCHEN FUNK ORCHESTRA – "MERCY, MERCY, MERCY"
WAYNE HORVITZ - "SOME PLACES ARE FOREVER AFTERNOON"
DICK HYMAN – "HOUSE OF PIANO"
RAMSEY LEWIS – "TAKING ANOTHER LOOK"
ROBERTO MAGRIS – "ENIGMATIX"
FRED RANDOLPH – "SONG WITHOUT SINGING"
BOBBY SHEW – "LIVE 1983"
LEE SMITH – "MY KIND OF BLUES"
TEAGAN TAYLOR - "THE SUBJECT OF…"
3 MORE SOUNDS – "THE HAPPINESS OF PURSUIT"
LAUREN WHITE WITH THE QUINN JOHNSON TRIO – "EXPERIMENT"
READ THE FULL ARTICLE
for links to artists websites, release reviews, and additional listening notes from the Jazz 88 Music staff....

I do not multi-task well. My multi-tasking is more stretched out linear-like, not stacked. Some might say it's not multi-tasking if it's not simultaneous but I would ask "how simultaneous does it have to be?" Right now E.S.T. is rolling "Still" from Leucocyte. This piece is certainly one mood of Free Time, but next is "Summer Song/Two/Evening" by Bill Dixon. Similar, but very different from each other. In the scope of things, there's going to be something around the corner that could change everything.

We are always looking for the Jazz-angle on the big happenings in San Diego and around the world, and one of the biggest in SD is Comic Con, happening July 9-12, 2015 at the San Diego Convention Center. And the Jazz-angle this year includes a special launch of San Diego native Igor Goldkind's "Is She Available?" described as a "Graphic Poetry Collection Combining Art, Comics, Jazz & Animation."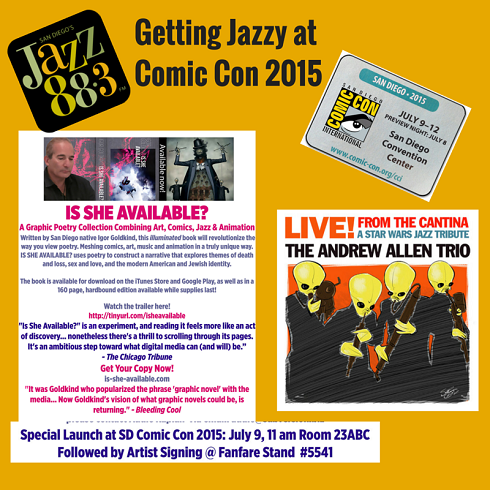 Jazz 88.3 is proud to support "Stars Align Protégés" happening TONIGHT at 7PM at JCC Performing Arts Theater in La Jolla. It's your chance to come out and enjoy an incredible evening of music by some of San Diego's most talented young musicians! It's going to be one special night you simply won't want to miss.

Antonio Sanchez continues his "Birdman" flight on his new release with his band Migration, "The Meridian Suite", 1 of the 9 new releases in the Jazz 88.3 Music Library for June 6, 2015.
The drummer, who was snubbed by the Academy of Motion Picture Arts and Sciences for his soundtrack to the award winning picture "Birdman", performs an hour-long suite inspired by his movie soundtrack on his new album. Check all the new music debut on
The New Jazz Thing with Vince Outlaw each Monday from 6 to 8 PM PT
.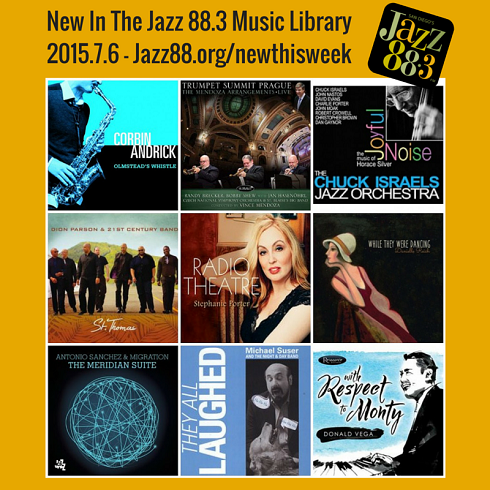 CORBIN ANDRICK – "OLMSTEAD'S WHISTLE"
RANDY BRECKER - BOBBY SHEW - JAN HASENÖHRL – "TRUMPET SUMMIT: PRAGUE"
CHUCK ISRAELS JAZZ ORCHESTRA – "JOYFUL NOISE"
DION PARSON & THE 21ST CENTURY BAND – "ST. THOMAS"
STEPHANIE PORTER – "RADIO THEATRE"
DANIELLE REICH – "WHILE THEY WERE DANCING"
ANTONIO SANCHEZ & MIGRATION – "THE MERIDIAN SUITE"
MICHAEL SUSER – "THEY ALL LAUGHED"
DONALD VEGA – "WITH RESPECT TO MONTY"
READ THE FULL ARTICLE
for links to artists websites, release reviews, and additional listening notes from the Jazz 88 Music staff....

Hank Mobley, "one of the Blue Note label's definitive hard bop artists" (Steve Huey, AllMusic.com) at saxophone, is the San Diego's Jazz 88.3 Artist of the Week starting July 7, 2015! Listen to Jazz 88.3 all week as our on-air Jazz hosts share their favorite Mobley tunes with you. Share your favorite Hank Mobley composition or collaboration with us and other Jazz fans using the Comment feature below or via any of Jazz 88.3 social media channels, such as Facebook and Twitter @Jazz88.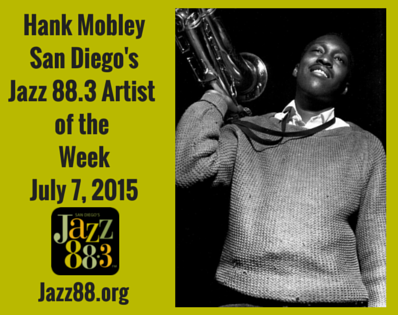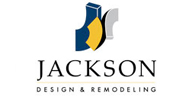 City College Student Radio
KSDS HD2
Listen Live
Pat Launer's Center Stage