Jazz 88.3 Blog

From the elder Masters of Jazz (Jimmy Heath, 88, 2003 NEA Master, "Dear Dizzy") to the youthful Future of Jazz (Joey Alexander, 13, "My Favorite Things") with LOTS OF KEYS in the mix (5 of 9 new led by piano/organ players), there is LOTS OF NEW JAZZ to check out in the adds to the Jazz 88.3 Music Library the week of May 4, 2015! Your Jazz 88.3 hosts will be introducing you to these new releases all week, so Listen Long, Often, and LIVE at 88.3 FM San Diego and Worldwide at Jazz88.org! You can check out the debut of all the new releases each week on The New Jazz Thing with Vince Outlaw, Monday evenings 6-8pm PT.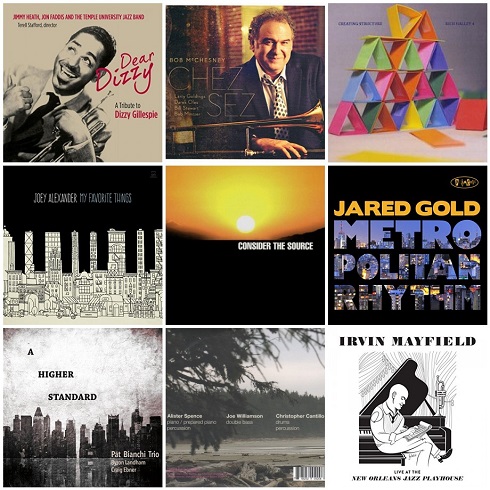 JIMMY HEATH, JON FADDIS & THE TEMPLE UNIVERSITY JAZZ BAND - "DEAR DIZZY"
BOB McCHESNEY - "CHEZ SEZ"
RICH HALLEY 4 - "CREATING STRUCTURE"
JOEY ALEXANDER - "MY FAVORITE THINGS"
DAWAN MUHAMMAD - "CONSIDER THE SOURCE"
JARED GOLD - "METROPOLITAN RHYTHM"
PAT BIANCHI - "A HIGHER STANDARD"
ALISTER SPENCE / JOE WILLIAMSON / CHRISTOPHER CANTILLO - "BEGIN"
IRVIN MAYFIELD - "LIVE AT THE NEW ORLEANS JAZZ PLAYHOUSE"
READ THE FULL ARTICLE for links to artists websites and social networks, release reviews, and additional listening notes from the Jazz 88 Music staff....

This is Jazz! 2015, a partnership between the City of Carlsbad Cultural Arts Office and San Diego's Jazz 88.3, concludes the 2015 series on Saturday, May 9 at 4PM in the Carlsbad City Library's Ruby G. Schulman Auditorium with "The Latin Connection In Jazz" featuring Colombian-born, Los Angeles-based flautist, saxophonist, and Latin jazz group leader Justo Almario presented by Jazz 88.3 host of "Latin Grooves" (Sat. Noon-3pm PT)Chris Springer.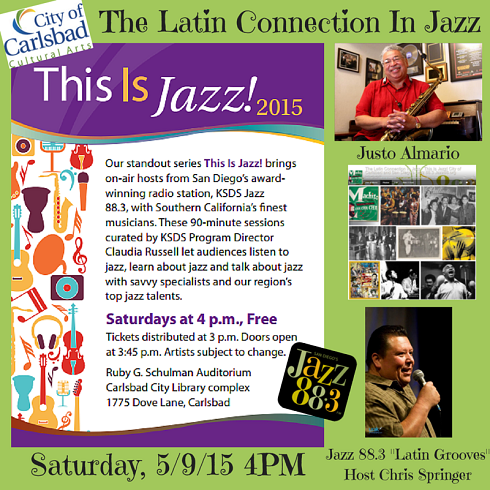 "The Latin Connection In Jazz" has it's roots in the history of Afro-Cuban music through the Golden Era of Latin Music "When Mambo Was King" through today's continued blending of sounds from throughout the northern and southern hemispheres. This wide range of music will be explored through presentation by Chris and the music of Justo Almario, who was among several Colombian musicians recruited by Mongo Santamaria for his band in the 1970s, notably on the album, Afro–Indio (1975). Justo will be joined by Allan Phillips piano, Tommy Aros congas, and Fernando Gomez on Drums.
READ THE FULL ARTICLE for the a photo album illustrating "The Latin Connection in Jazz"...

To join in International Jazz Day Celebrations on this Thursday, April 30, 2015, and on the eve of our launch of the 2015 Music Matters Instrument Drive collection program, part of The Future of Jazz initiative at San Diego's Jazz 88.3 Jazz88.org, we are hosting a guest blog post of The Top Jazz Artists of All Time, as compiled by the students and staff of Napoli School of Music and Dance near Philadelphia, PA.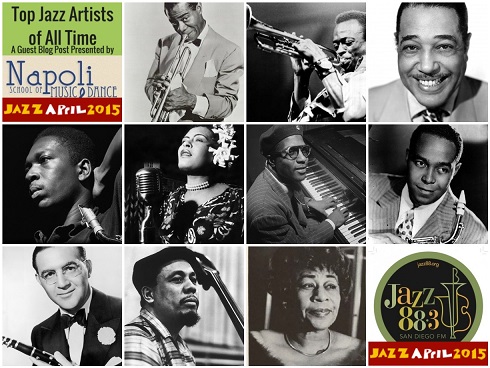 The students at Napoli learn about a wide variety of topics in the jazz realm, including scales, reading, theory, repertoire, and improvisation. Our jazz music lessons take our students through the greats, including Joplin and Gershwin. In preparation for Jazz Appreciation Month, the students were asked who some of their favorite artists were, then the staff worked to put it all together into the first Jazz 88.3 Guest Blog Post...at least that I know of ;) Jazz 88 has taken the YouTube video's selected by Napoli as illustrating each of the artists repertoire and put them into a
playlist
on the
Jazz 88.3 YouTube Channel (SUBSCRIBE!)
.
If you'd like to discuss your ideas for a guest post on the Jazz 88.3 Blog, send me an email at VinceO@Jazz88.org!
READ THE FULL ARTICLE
for today's guest post!

We've got THE BEST fans and followers on social media at Jazz 88.3! To close out our celebration of what would be the 116th birthday of the great Duke Ellington, let's share what the best social media followers and fans in REAL JAZZ RADIO-land think about this icon of America's Original Art Form, Jazz! And you can still get in the act...

Our annual
Music Matters Instrument Drive is nearing an end
! For the
rest of the month of May
, San Diegans can donate their used musical instruments to Jazz 88.3 and in turn, we will refurbish each instrument collected and distribute them among San Diego City School music programs. So dust off your old instrument(s) and swing by the
Jazz 88.3 business office
to drop 'em off (
we're located in the L-Building on the City College campus
) and help keep San Diego's youth musically-inspired!

LIVE Monday, April 27, 2015, 6-8 PM PT @Jazz88 San Diego's Jazz 88.3 FM, Jazz88.org, and Apple/Android Apps to The New Jazz Thing @Jazz88 with Vince Outlaw
...Supported by Listener Contributors like YOU and...YOUR BUSINESS (
learn more about underwriting The New Jazz Thing!
). GET SOCIAL @TNJT on Facebook and Twitter.
Tonight on the show...
Jazz 88 Playlist Archive for Monday, April 27, 2015 - Check out 6-8PM PT for what's happening on the air!
Jazz88.org Website Highlights For The Week of 2015.04.27
Jazz 88.3 On-Air Highlights For The Week of 2015.04.27
Jazz 88.3 Jazz and Blues Calendar Preview Week of April 27, 2015
Artist of the Week / Jazz Birthday's / On This Day In Jazz at Jazz88.org, and
DEBUTING NEW JAZZ MUSIC! Jazz Appreciation Month 2015 Goes Out Strong With These New Jazz Releases To The Jazz 88 Music Library: Jazz 88.3 wraps up our Jazz Appreciation Month 2015 celebration with new releases for the week of April 27, 2015 that include the latest from guitarist Pat Martino ("Nexus"), saxophonist and Jazz entrepreneur (Cellar Live records / club) Cory Weeds ("Condition Blue"), and vocalist Mary Stallings ("Feelin' Good"). Your Jazz 88.3 hosts will be introducing you to these new releases all week, so Listen Long, Often, and LIVE at 88.3 FM San Diego and Worldwide at Jazz88.org!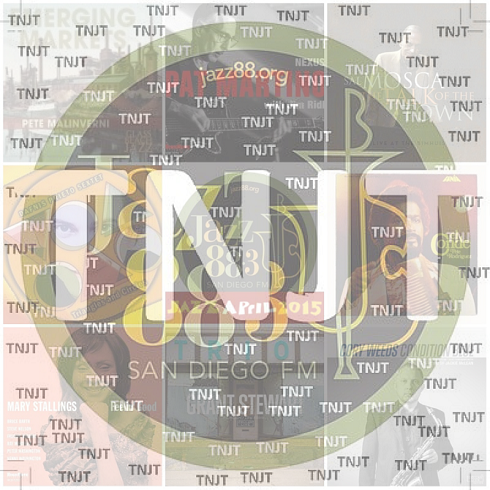 READ THE FULL ARTICLE
for more details on EVERYTHING from tonight's show!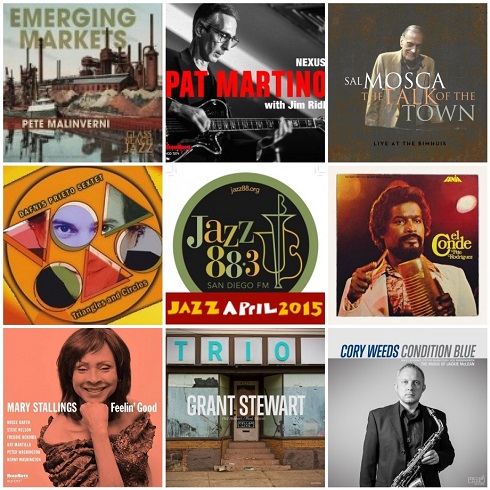 PETE MALINVERNI – "EMERGING MARKETS"
PAT MARTINO – "NEXUS"
SAL MOSCA – "THE TALK OF THE TOWN"
DAFNIS PRIETO SEXTET – "TRIANGLES AND CIRCLES"
PETE RODRIGUEZ – "EL CONDE NEGRO"
MARY STALLINGS – "FEELIN' GOOD"
GRANT STEWART – "TRIO"
CORY WEEDS – "CONDITION BLUE"
READ THE FULL ARTICLE for additional listening notes from the Jazz 88 Music staff....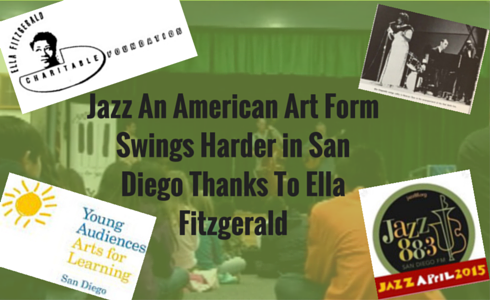 Ella Fitzgerald and San Diego have long and deep ties, from her earliest appearances here in the late 1930's at venues like the Mission Beach Ballroom and through her celebrated accompanists who lived here and still make San Diego home. And to keep the birthday celebration swinging, San Diego's Jazz 88.3 on-air hosts share their thoughts on "Lady Ella" and will be curating some of their favorites tunes featuring the "Queen of Jazz" for you all day Saturday, April 25, the 98th Birthday of "The First Lady of Jazz" and in the weeks ahead.
READ THE FULL ARTICLE
for more on "Jazz An American Art Form", Ella's ties to San Diego, and thoughts and favorites from your Jazz 88.3 On-Air Hosts and Staff.

Jazz Live brings in the modern and the technology on TONIGHT with Kronomorfic, lead by saxophonist David Borgo. Personnel is as yet tentative, but count on quality and agility. Jazz 88.3 Members can reserve tickets online or at 619-388-3037. Jazz Live always starts at 8pm in the Saville Theatre at City College. All Ages Welcome! Print Parking Permit!




Heads-up Jazz Jam lovers: OUR SUNDAY NIGHT JAZZ JAM is TAKING A BREAK. We hope to continue this ALL-AGES good-time at a new location in the near future. We will keep you posted.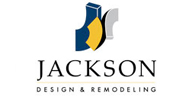 City College Student Radio
KSDS HD2
Listen Live
Pat Launer's Center Stage