August, 2014

September's getting started with a great batch of New Additions to the Jazz 88 Music Library, including the latest work from Dave Douglas, Wayne Escoffrey, and Christian Tamburr.
You can check out their Jazz 88 DEBUT on The New Jazz Thing @Jazz88, Monday, September 1, 2014 between 6 and 8 PM PT (Update: Link to TNJT Debut coming soon)!
Read the entire article for the full list with further annotations and a place for you to Comment On The New!


Vocalist Janet Klein radiates a vintage vibe in the Jazz Style and Her Parlor Boys are right there with her. For our next Jazz Live they will play tribute to the San Diego treasure Lou Curtiss, famous for Folk Arts Rare Records and Jazz Roots on Jazz 88.3. The show is TONIGHT, it starts at 8pm, and it's all-ages welcome. Saville Theater, City College, 14th & C downtown. Valid Jazz 88.3 Members can reserve free tickets by calling 619-388-3037. If you are not a member tickets are only $10 and can be purchased at 7:30pm the night of the show. Print the Parking Permit and enjoy the fresh air.

Three Day Weekend! Award Winning Jazz Radio! Large Ensembles Set On Stun!
I might be persnickety when it comes to Personal Inclinations In Music Selection but it was a full-on throw-down program of large groups, ensembles, big bands, and like that. On the one hand there was no Sun Ra or 8 Bold Souls or Creative Orchestra Music. On the other, Secret Society and New York Hieroglyphics and Box Canyon Overview. "It's all about texture" said Jared Gold after slaying us at Oliver Lake some years back.
Lester Bowie. Enough said. Well, okay...Julius Hemphill, too. Very High Level.
Sam Rivers swang at the conclusion and really wrapped it up.
Thanks for listening

Celebrate Hispanic Heritage Month with a special benefit concert TONIGHT at 7:30PM. This concert, brought to you by Vaya Entertainment and Emerson Bran Management will bring three-time Grammy winner Oscar Hernandez to the Saville Theater along with saxophonist Justo Almario and San Diego's own, Gilbert Castellanos. Listen to Chris Springer's Oscar Hernandez interview about the event. It will be a night to remember, and proceeds from the concert will benefit your favorite Jazz and Blues public radio station, Jazz 88.3. Here is the ticket information.

Jazz 88 Speakeasy (On-Demand, Click to Play): Tiffany Jane and The Kicks "Discovery" Interview (14:43)

Tiffany Jane and The Kicks - We'll get introduced to this 2014 San Diego Music Award Best Jazz Nominee with some music from their recently released disc "Discovery" and a chat with members of the band. We'll be chatting in Hour 1!



Read the full article for Top 10 Countdown links/video, Full list of NEW Adds @Jazz88 8/25/14, Coming up on TNJT, more!

You can check out their Jazz 88 DEBUT on The New Jazz Thing @Jazz88, Monday, August 25, 2014 between 6 and 8 PM PT (Update: Link to TNJT Debut coming soon)!
AFRO BOP ALLIANCE – "ANGEL EYES"
AKIKO – "COMMENCEMENT"
PAUL CARR – "B3 SESSIONS (CD-NY)"
KEVIN CLINE – "MAKE UP YOUR MIND"
MICHAEL DEASE – "RELENTLESS"
BEBE GILBERTO – "TUDO"
JOSEPH LUNA – "EPICENTER"
MACK AVENUE SUPER BAND – "LIVE FROM THE DETROIT JAZZ FESTIVAL-2013"
DAWAN MUHAMMED – "PREACHIN' TO THE CHOIR"
JANE POTTER TRIO – "NOW I KNOW"
"RITMOS UNIDOS"
MITCH SHINER AND THE BLOOMING TONES BIG BAND – "FLY!"
DARA TUCKER – "THE SUN SEASON"
ANA VELINOVA – "THE THIEF"
FRANK WALTON/YORON ISRAEL SEXTET – "LIVE IN CHICAGO"

Jazz 88.3
in partnership with
Edible San Diego
invites you to the Fall Issue Release Party happening
TONIGHT
from
5-8PM
at "
Solare Ristorante
" in Liberty Station. Come out and experience Solare Ristorante and enjoy great Jazz by the
Patrick Berrogain Duo
, and of course, pick up the latest issue of Edible San Diego while you're at it! It's your chance to hang out with Jazz 88.3 and mingle with the community...all while we raise our glasses and forks to a locally-inspired good time! We'll see you there!

Straight to bullet points:
Did not know that Joey DeFrancesco plays trumpet. The new disc with Bobby Hutcherson and Billy Hart is sweet but my ears went 'wait, what?' Had to go to the liner notes. Did not know that.
Viper's Drag makes me pine for Air Lore. Long time in between, less so if I had more time and attention span.
Marc Cary surely must be in the running for top pianist. Not competitively or categorically, but thinking about unique voice and interaction and dynamic group chemistry...right up there, near the top.
Somebody asked me if I mean it when I say "Thanks for listening." Well, you know, of course I mean it. The whole show has been about intention and then at the end I'm gonna bs? No, I am not gonna. Thanks for listening!

LIVE Monday, August 18, 2014, 6-8 PM PT @Jazz88 San Diego's Jazz 88.3 FM, Jazz88.org, and Apple/Android Apps to The New Jazz Thing @Jazz88 with Vince Outlaw
...Supported by Listener Contributors like YOU and...YOUR BUSINESS (
learn more about underwriting The New Jazz Thing!
).
Tonight on the show, we chatted with the #2 artist in Jazz this week and the new Chair of the Brass Department at the Berklee College of Music, Sean Jones, and members of San Diego's Pocket who picked up a 2014 San Diego Music Award nomination for their new release "The Stick Bag". Jeff and Andy also helped me out with the Top 10 Countdown of the Jazzweek Jazz Album chart, we played and gave away loads of great New Jazz Music too! Read the entire article for links to audio archives of the show and interviews, links to everything that was New This Week, and more! Here's tonight's playlist just to tempt you a bit...click the link down there!


Quanity AND Quality in this LARGE list of Adds to the Jazz 88 Music Library the weeks of August 11 and 18 2014. Walton, Longo, Dr. John, Harrell...some of the biggest names in Jazz...all have new releases out...and that's only a small part of the New Jazz being made and released this week...JAZZ LIVES and THRIVES!
You can check out their Jazz 88 DEBUT on The New Jazz Thing @Jazz88, Monday, August 18, 2014 between 6 and 8 PM PT (Update: LISTEN to the Jazz 88 Speakeasy archive of the show)!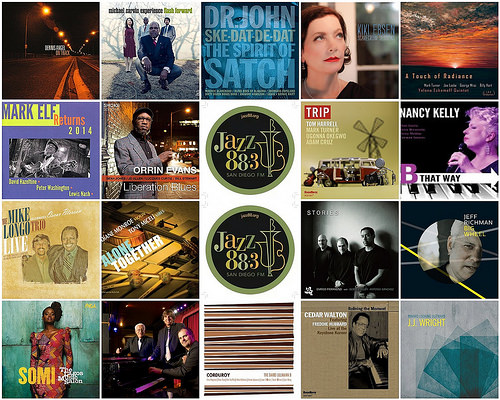 Adds For August 18, 2014
DENNIS ANGEL – "ON TRACK"
MICHAEL CARVIN EXPERIENCE – "FLASH FORWARD"
DR. JOHN – "SKE-DAT-DE-DAT: THE SPIRIT OF SATCH"
KIKI EBSEN- "SCARECROW SESSIONS"
YELENA ECKEMOFF – "A TOUCH OF RADIANCE"
MARK ELF – "RETURNS 2014"
ORRIN EVANS – "LIBERATION BLUES"
TOM HARRELL – "TRIP"
NANCY KELLY – "B THAT WAY"
MIKE LONGO TRIO – "CELEBRATES OSCAR PETERSON: LIVE"
DIANE MONROE/TONY MICELI – "ALONE TOGETHER"
ENRICO PIERANUNZI – "STORIES"
JEFF RICHMAN & WAYNE JOHNSON – "THE DISTANCE"
SOMI – "THE LAGOS MUSIC SALON"
"TRES COMPADRES"
DAVID ULLMANN 8 – "CORDUROY"
CEDAR WALTON – "RELIVING THE MOMENT"
J.J.WRIGHT – "INWARD LOOKING OUTWARD"
Adds To August 11, 2014
WAYNE CONIGLIO / SCOTT WHITFIELD – "FAST FRIENDS"
THE COOKERS – "TIME AND TIME AGAIN"
DMITRY MATHENY – "SAGEBRUSH REBELLION"
JAE SINNETT – "SUBJECT TO CHANGE"
"ANDREAS VARADY"
WALTER WHITE – "MOST TRIUMPHANT"
Read the full article for additional annotations, links to and quotes from reviews and releases, and your chance to comment on this week's New...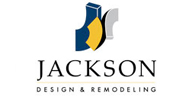 Student Delivered Sound
Listen Live
Support Jazz 88.3
while you shop at
Pat Launer's Center Stage