February, 2015

The music of Joe Garrison is finally getting the recognition it deserves. Quietly distilled into a dynamic form and now animated by like-minded adventurists, Garrison's compositions are in the spotlight for our next Jazz Live TONIGHT. Jazz 88.3 Members should reserve tickets online now. Also, the Parking Permit is here. 8pm in the Saville Theatre at City College. Can't make it? Listen online!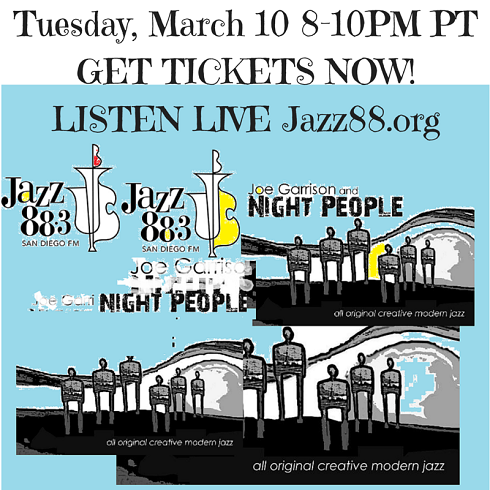 READ THE FULL ARTICLE
for pictures, audio, video, and more from the show....
Read full article at:
Joe Garrison Jazz Live

Kenny G...Yes, THAT Mr. G...goes Brazillian, while Warren Vache remember the great Benny Carter and Jacky Terrason dishes out the Jazz medicine...and that's only a few of the NEW releases to the Jazz 88.3 Music Library for this first week of March, 2015.
You can check out their debut each week on
The New Jazz Thing with Vince Outlaw, Monday evenings 6-8pm PT
and then your favorite Jazz 88.3 Hosts will be adding them to their playlists for YOU to enjoy and learn!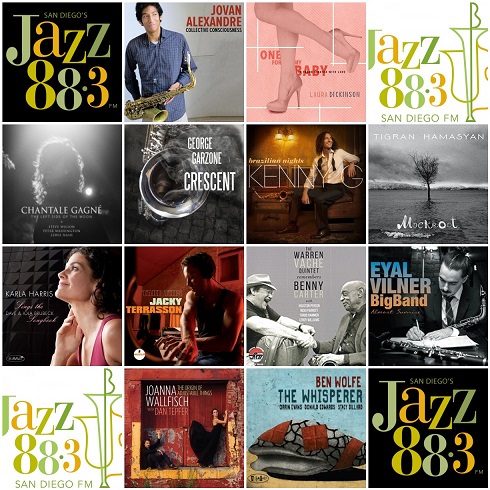 JOVAN ALEXANDRE – "COLLECTIVE CONCIOUSNESS"
LAURA DICKINSON – "ONE FOR MY BABY"
CHANTALE GAGNÉ – "THE LEFT SIDE OF THE MOON"
GEORGE GARZONE – "CRESCENT"
KENNY G – "BRAZILIAN NIGHTS"
TIGRAN HAMASYAN – "MOCKROOT"
"KARLA HARRIS SINGS THE DAVE AND IOLA BRUBECK SONGBOOK"
JACKY TERRASSON – "TAKE THIS"
"THE WARREN VACHÉ QUARTET REMEMBERS BENNY CARTER"
EYAL VILNER BIG BAND – "ALMOST SUNRISE"
JOANNA WALLFISCH – "THE ORIGIN OF ADJUSTABLE THINGS"
BEN WOLFE – "THE WHISPERER"

UPDATE: Ticket giveaway closed Friday morning at 9:30am. CONGRATULATIONS Jerry C., Rick V, Miriam K, Kim C, and James S! Tickets still available for this show!
READ THE FULL ARTICLE for more on this dynamic young lion of Jazz...

LIVE Monday, February 23, 2015, 6-8 PM PT @Jazz88 San Diego's Jazz 88.3 FM, Jazz88.org, and Apple/Android Apps to The New Jazz Thing @Jazz88 with Vince Outlaw
...Supported by Listener Contributors like YOU and...YOUR BUSINESS (
learn more about underwriting The New Jazz Thing!
). Tonight on the show...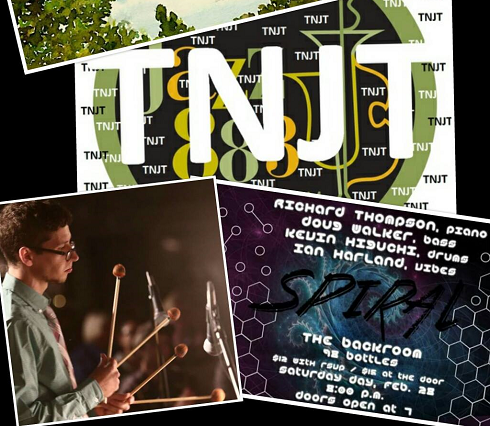 READ THE FULL ARTICLE for more information, audio, video, pictures, links, and MORE covered on TONIGHT'S SHOW!

San Diego's Nathan East has a new self-titled release out and he joins the ranks of Albert "Tootie" Heath (with The Bad Plus' Ethan Iverson), pianist Matthew Shipp, and other new Jazz Music releases to the Jazz 88.3 Music Library for the week of February 23, 2015.
You can check out their debut each week on
The New Jazz Thing with Vince Outlaw, Monday evenings 6-8pm PT
and then your favorite Jazz 88.3 Hosts will be adding them to their playlists for YOU to enjoy and learn!
ATTA KID – "EAST BASICS"
ANNIE BOOTH – "WANDERLUST"
ANDY BROWN – "SOLOIST"
NATHAN EAST - "NATHAN EAST"

ALBERT "TOOTIE" HEATH / ETHAN IVERSON / BEN STREET – "PHILADELPHIA BEAT"
KENDALL MOORE – "FOCUS"
MATTHEW SHIPP TRIO – "TO DUKE"
SYSTEM VII – "OUR THING"
WALKER & KAYS – "CHASING A RAINBOW"
GLENN ZALESKI – "MY IDEAL"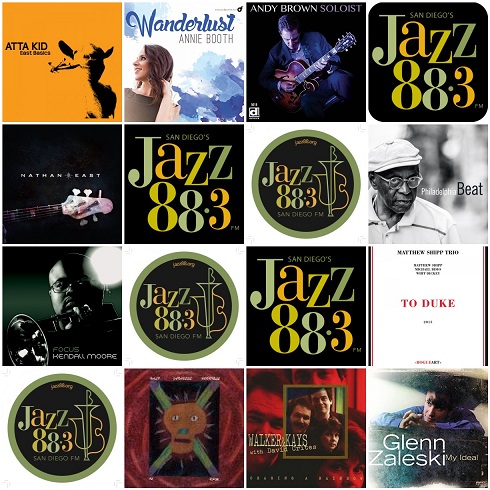 READ THE FULL ARTICLE for Jazz 88 Music Director Joe Kocherhans' quick review, links to artists websites and social, reviews. LEAVE A COMMENT!

READ THE FULL ARTICLE
for more on Kei and his band from Japan...

The Jazz World is honoring the life of one of the greats today at the news of the passing of Jazz Trumpter, Educator, Mentor and more, Clark Terry. His wife Gwen Terry made the following announcement on his website on Saturday evening,



"Our beloved Clark Terry has joined the big band in heaven where he'll be singing and playing with the angels. He left us peacefully, surrounded by his family, students and friends. Clark has known and played with so many amazing people in his life. He has found great joy in his friendships and his greatest passion was spending time with his students. We will miss him every minute of every day, but he will live on through the beautiful music and positivity that he gave to the world. Clark will live in our hearts forever.




With all my love, Gwen Terry"
The family has asked the Jazz world to post their remembrances on the website
Guestbook
and
Facebook
pages.
San Diego's Jazz 88.3 would like to highlight comments from our listeners and supporters and the rest of the San Diego Jazz Community.
We offer our Comments section at the end of this blog post
as a place to share links to your personal remembrances and links to special articles about Clark Terry.
READ THE FULL ARTICLE to follow updated comments from San Diego's Jazz 88.3 hosts, San Diego Jazz artist and community, and links to other news about the passing of "Mumbles"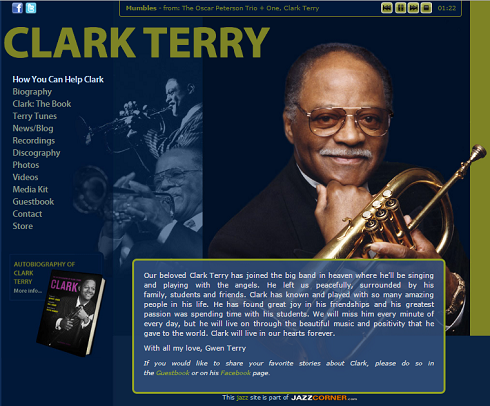 The Belly Up Tavern in Solana Beach has 4 pair of tickets for Jazz 88 listeners and supporters to this Friday's, February 20, 2015 9pm, performance of Paul Thorn with Nancarrow. Paul Thorn's new album Too Blessed To Be Stressed stakes out new territory for the popular roots-rock songwriter and performer, a perfect match for listeners of Jazz 88's Blues, Guitar, and Roots shows. This is an age 21 and over show.




Enter your name, email, and phone number below during our giveaway on Wednesday and we'll let you know Thursday if you've won tickets!







This is Jazz! 2015, a partnership between the City of Carlsbad Cultural Arts Office and San Diego's Jazz 88.3, kick off the 2015 series with "International Songs of Love" with vocalist Allison Adams Tucker and Jazz 88.3 Monday Evening Jazz host Jeff Dalrymple ever-so appropriately on Valentines Day, Saturday, Februrary 14, 2015 at 4PM in Carlsbad City Library's Ruby G. Schulman Auditorium.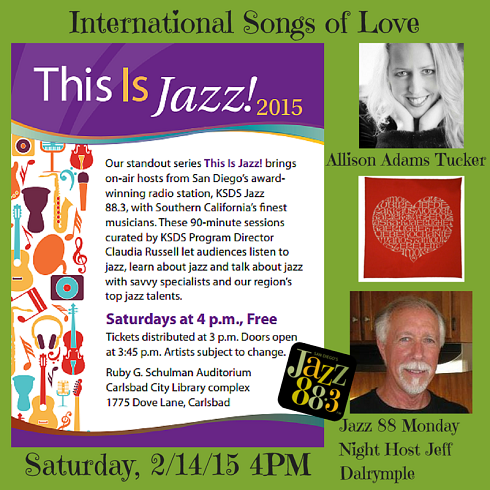 This first in a series of 4 programs is on Valentine's Day and spotlights love songs from around the world. Allison Adams Tucker brings her jazz quartet to the library and Jazz 88 radio host Jeff Dalrymple narrates. Listen as Allison sings songs from the different stages of love! Early love, fickle love, being in love, breakup love! Allison has chosen some great standards, some contemporary songs and all will get the full jazz treatment. Also, since she sings in many languages, we will find out about love songs from other countries and cultures.
READ THE FULL ARTICLE for additional info on times, location, the full This Is Jazz! 2015 series, and your chance to COMMENT ABOUT THE EVENTS!

Here's all the NEW That's Fit To Print...and being added for your listening pleasure to the Jazz 88.3 Music Library the week of February 9, 2015! You can hear them debut each Monday, 6-8pm PT on The New Jazz Thing with Vince Outlaw!
RANDY BRECKER WITH THE DePAUL UNIVERSITY JAZZ ENSEMBLE – "DEARBORN STATION"
MIKE CAMPBELL – "CLOSE ENOUGH FOR LOVE"
JON DAVIS – "MOVING RIGHT ALONG"
DONNA DEUSSEN & THE PAUL WEITZ TRIO – "ON THE STREET WHERE YOU LIVE"
"DUCHESS"
HENRY FRANKLIN – "TWO VIEWS"
VIJAY IYER TRIO – "BREAK STUFF"
DIANA KRALL – "WALLFLOWER"
GREG MURPHY – "BLUES FOR MILES"
NAZ – "TIME AFTER"
SWEET LU OLUTSIN – "SWEET LOU'S BLUES"
ANTHONY PIROG – "PALO COLORADO DREAM"
CHRIS POTTER UNDERGROUND ORCHESTRA – "IMAGINARY CITIES"
BERNARD SCAVELLA – "A TASTE OF SCAVELLA"
VIRGINIA SCHENCK – "INTERIOR NOTIONS"
JUDI SILVANO WITH MIKE ABENE – "MY DANCE"
KEITH SILVERMAN TRIO – "PARALLEL MAN"
IAN SIMS AND DIVERGENT PATHS – "CONUNDRUM"
SUE TERRY – "LIVE AT THE DEER HEAD INN"
STEVE TYRELL – "THAT LOVIN' FEELING"
PIET VERBIST – "CATTITUDE"
KENNY WHEELER – "SONGS FOR QUINTET"
READ THE ENTIRE ARTICLE
for additional annotations, links, and more....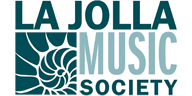 Support Jazz 88.3
while you shop at
Pat Launer's Center Stage