Jazz 88.3 Blog
Ahmad Jamal, who celebrates his 85th birthday this Thursday, July 2, is the San Diego's Jazz 88.3 Artist of the Week starting June 29, 2015! Your favorite Jazz 88.3 hosts will be playing his music and telling their personal stories of the impact of his music overall and on them personally.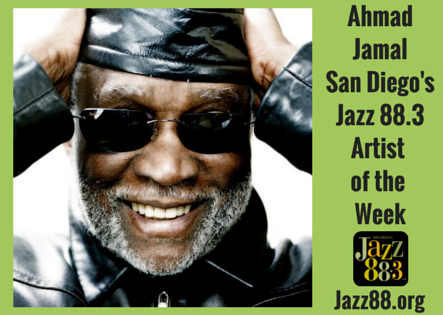 Bill Cunliffe, leader on over 20 albums and winner of both a 2009 Grammy Award and the 1989 Thelonious Monk International Piano Competition is the Jazz 88.3 Artist of the Week starting June 22, 2015. You can hear this fantastic composer, arranger, and pianist's music all week played by your favorite hosts LIVE on San Diego's Jazz 88.3 and Worldwide at Jazz 88.3.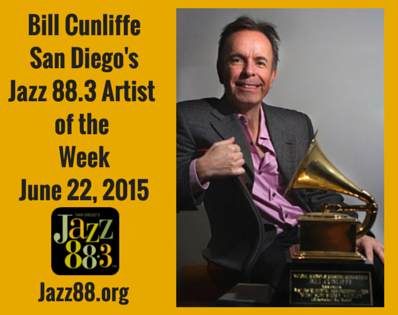 READ THE FULL ARTICLE
for 14 albums you can hear Bill play on and to learn more about our Artist of the Week...
The Jazz Journalists Association (JJA, JazzJournalists.org) celebrated the winners of their 2015 Jazz Journalists Association Jazz Awards at the organization's annual public Jazz Awards party at the Blue Note Jazz Club in New York City on Tuesday, June 16, 2015. The 2015 JJA Awards For Musical Achievement were chosen in 32 categories for achievement in work in 2014 and were previously announced in May 2015. 2015 JJA Jazz Awards for Journalism and Media were announced at the event on Tuesday. Additionally, 23 previously announced 2015 Jazz Journalist Award Jazz Heroes were celebrated at the party.




San Diego's Jazz 88.3 Jazz88.org send BIG CONGRATULATIONS to all the Winners and Jazz Heroes for the great work they do to keep Jazz Alive and Well!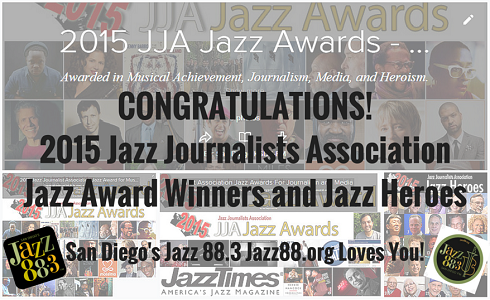 READ THE FULL ARTICLE for additional links, coverage, and pictures of the winners and heroes...
Tom Harrell is the Jazz 88.3 Artist of the Week starting June 15, 2015. You can hear this fantastic trumpter, flugelhornist, composer, and bandleader's music all week played by your favorite hosts LIVE on San Diego's Jazz 88.3 and Worldwide at Jazz 88.3.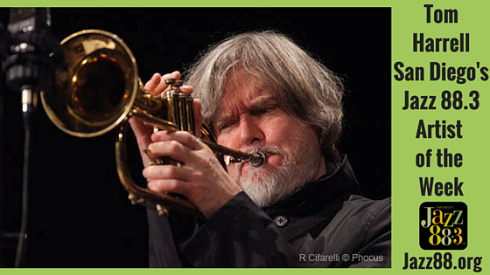 READ THE FULL ARTICLE for a Portrait in Jazz video preview of Tom Harrell, 26 Tom Harrell albums you can hear on Jazz 88.3, and links to more about this great Jazz artist.
Word came to Jazz 88.3 via Facebook from San Diego Jazz trumpter, band leader, educator, and entrepreneur Gilbert Castellanos...



Hello family & friends, I am sad to say that the month of June will be the last month for the Young Lions series at Croce's Park West. I want to thank the people who came out on Wednesday nights to support the young musicians. I am proud of the young talented musicians for the work they put into promoting their night, preparing and rehearsing music for their sets, and showing true professionalism on stage. This is really where my passion and heart and soul is, watching these young adults blossom into amazing musicians! I also want to thank Ingrid Croce and Jimmy Rock for giving us a home to perform for the last 16 months. I DO NOT want this to be the end of the young lion series! It's crucial that we keep this going for the future of jazz in San Diego! As of today, I am searching for a new home for the series! I would love to get the program back on it's feet by July! Please feel free to inbox me if you would like to share your thoughts/suggestions!




Keep jazz alive!!!




With love and respect,




Gil



Gilbert estimates that there have been over 200 young musicians that have played for the series, with 80% of them still in high school. The evening usually draws a big crowd with standing room only being not uncommon. Gilbert's goal is to "find a venue that can guarantee the young musicians a fee" in order to keep the evening free and "really pack the joint!" According to Gilbert, the lions have been doing a "great job" promoting their nights on the bandstand.




Jazz 88.3 is helping to get this search underway with this blog post, but this is an opportunity that will take the community of business leaders, art directors and presenters, music educators to move forward AND ESPECIALLY the support of Jazz, Music, Education, and Art Lovers and Supporters dedicating themselves to go and see and hear and exhort The Future of Jazz forward to do as Gilbert says, KEEP JAZZ ALIVE, at whatever home these Young Lions find next.



B.B. King, an icon and world wide ambassador for the Blues, has passed away on Thursday, May 14, 2015 at 9:40pm in his sleep at his home in Las Vegas, the San Diego UT is reporting in a long and heart-felt remembrance by George Varga, who had written about B. B.'s many trips to San Diego. "The thrill is gone for millions of music fans around the world", he begins, using the title from a signature piece from King's over 6 decade career in music. At San Diego's Jazz and Blues 88.3, we send out condolences to the family of B. B. King and to his fans and supporters world-wide. READ ON as Blues 88.3 hosts, listeners, and supporters remember B.B. King.
One of the best things I find out in the interviews I have the honor of doing on The New Jazz Thing or as part of Jazz Live San Diego, or just in talking with Jazz and music lovers I come across is the influence of their family and upbringing on what they love as their passion and/or do as their livelihood. And while having a talented Jazz Mom may give you a little step-up in following in her footsteps, there are many other ways that our parents, and Mom's in particular as we head toward Mother's Day 2015, have put us on the path toward the music we love and play and listen to day in and day out. My Mom, in particular, made sure that we listened to big string orchestrated music which I think directly led to my liking of both small ensembles with strings and to the complexity that can come with large ensemble Jazz music.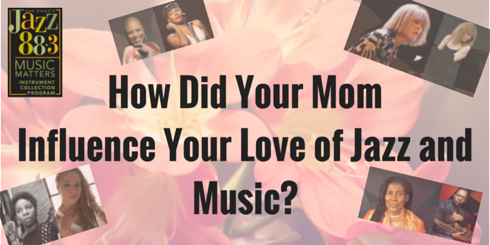 READ THE FULL ARTICLE for remembrances shared by Jazz 88 members, listeners, and staff...and Happy Mother's Day!
It's Gator By The Bay time again and San Diego's Jazz and Blues 88.3 is pleased to be hosting the KSDS Jazz 88 Festival Stage featuring a great musical gumbo of blues, zydeco, honky tonk, boogie woogie, and more from opening night Thursday with BeauSoleil to Mother's Day Sunday close with Brian Jack & The Zydeco Gamblers. Some of your favorite Jazz 88.3 Jazz, Blues, and Second Line on-air hosts at will be keeping the party moving all weekend, so get down to Spanish Landing, Say Hi, and Let The Good Times Roll! Read on for the full list of performers on the KSDS Jazz 88 Festival Stage at the east end of Gator, near the Sheraton! READ THE FULL ARTICLE for full Festival Stage lineup and additional key links!




This is Jazz! 2015, a partnership between the City of Carlsbad Cultural Arts Office and San Diego's Jazz 88.3, concludes the 2015 series on Saturday, May 9 at 4PM in the Carlsbad City Library's Ruby G. Schulman Auditorium with "The Latin Connection In Jazz" featuring Colombian-born, Los Angeles-based flautist, saxophonist, and Latin jazz group leader Justo Almario presented by Jazz 88.3 host of "Latin Grooves" (Sat. Noon-3pm PT)Chris Springer.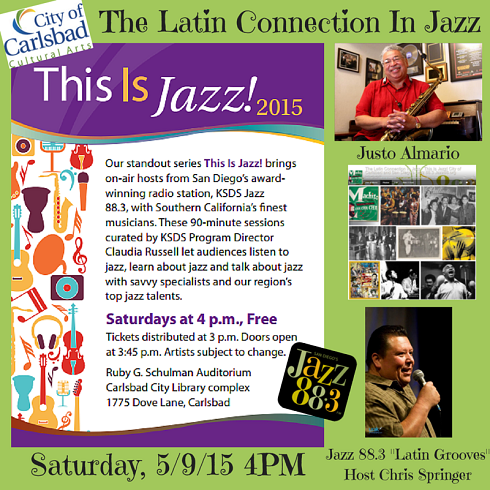 "The Latin Connection In Jazz" has it's roots in the history of Afro-Cuban music through the Golden Era of Latin Music "When Mambo Was King" through today's continued blending of sounds from throughout the northern and southern hemispheres. This wide range of music will be explored through presentation by Chris and the music of Justo Almario, who was among several Colombian musicians recruited by Mongo Santamaria for his band in the 1970s, notably on the album, Afro–Indio (1975). Justo will be joined by Allan Phillips piano, Tommy Aros congas, and Fernando Gomez on Drums.
READ THE FULL ARTICLE for the a photo album illustrating "The Latin Connection in Jazz"...
To join in International Jazz Day Celebrations on this Thursday, April 30, 2015, and on the eve of our launch of the 2015 Music Matters Instrument Drive collection program, part of The Future of Jazz initiative at San Diego's Jazz 88.3 Jazz88.org, we are hosting a guest blog post of The Top Jazz Artists of All Time, as compiled by the students and staff of Napoli School of Music and Dance near Philadelphia, PA.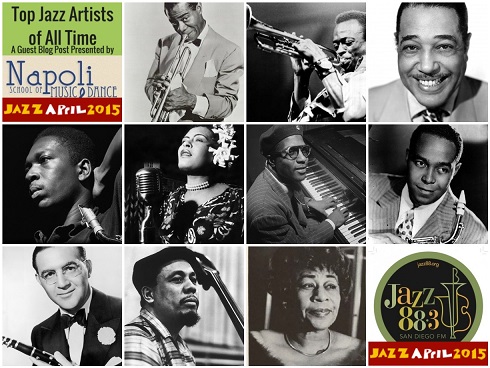 The students at Napoli learn about a wide variety of topics in the jazz realm, including scales, reading, theory, repertoire, and improvisation. Our jazz music lessons take our students through the greats, including Joplin and Gershwin. In preparation for Jazz Appreciation Month, the students were asked who some of their favorite artists were, then the staff worked to put it all together into the first Jazz 88.3 Guest Blog Post...at least that I know of ;) Jazz 88 has taken the YouTube video's selected by Napoli as illustrating each of the artists repertoire and put them into a
playlist
on the
Jazz 88.3 YouTube Channel (SUBSCRIBE!)
.
If you'd like to discuss your ideas for a guest post on the Jazz 88.3 Blog, send me an email at VinceO@Jazz88.org!
READ THE FULL ARTICLE
for today's guest post!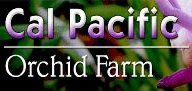 City College Student Radio
KSDS HD2
Listen Live
Pat Launer's Center Stage