Jazz 88.3 Blog

Gilbert stopped by the KSDS-FM Jazz 88.3 studios on Wednesday, August 26, 2015 for a live, on-air chat with
Afternoon Jazz host Ron Dhanifu
about all of those next steps plus the mentorship that Dizzy Gillespie gave him that inspires him to do the same to the next generation, and more.
READ THE FULL ARTICLE
for Jazz 88 Speakeasy Audio of the interview along with a full transcript...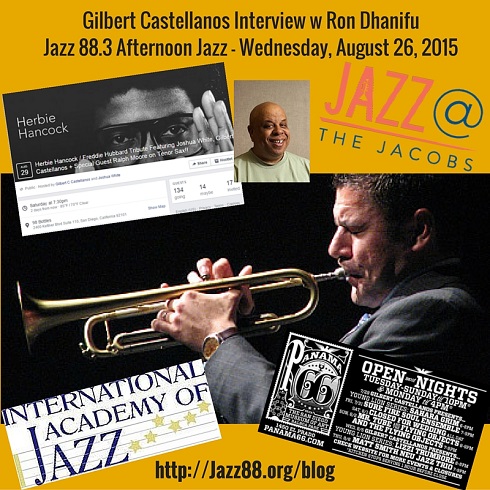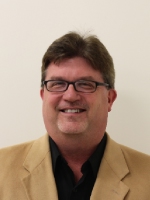 KSDS-FM, Jazz88 Jazz88.org– Jazz Week's Station of the Year (2015) - is pleased to announce the appointment of Ken Poston, as General Manager of the station effective July 1, 2015.

The 2015 Jazz 88.3 Summer Jazz Workshop, supported by the Francis Parker School and House of Blues San Diego, presents it's class of high school students in a free concert this Saturday, July 25, 2015 at 10AM in House of Blues San Diego Music Hall.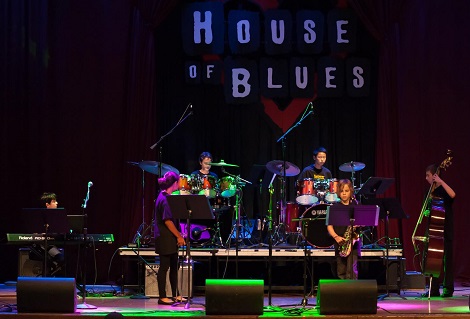 READ THE FULL ARTICLE
for more on the workshop and details about this Saturday's show…

We are always looking for the Jazz-angle on the big happenings in San Diego and around the world, and one of the biggest in SD is Comic Con, happening July 9-12, 2015 at the San Diego Convention Center. And the Jazz-angle this year includes a special launch of San Diego native Igor Goldkind's "Is She Available?" described as a "Graphic Poetry Collection Combining Art, Comics, Jazz & Animation."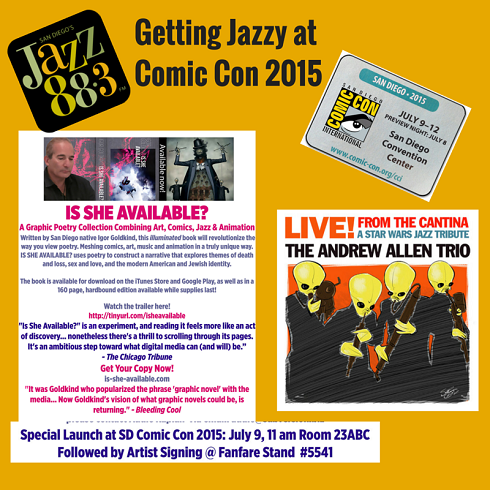 Hank Mobley, "one of the Blue Note label's definitive hard bop artists" (Steve Huey, AllMusic.com) at saxophone, is the San Diego's Jazz 88.3 Artist of the Week starting July 7, 2015! Listen to Jazz 88.3 all week as our on-air Jazz hosts share their favorite Mobley tunes with you. Share your favorite Hank Mobley composition or collaboration with us and other Jazz fans using the Comment feature below or via any of Jazz 88.3 social media channels, such as Facebook and Twitter @Jazz88.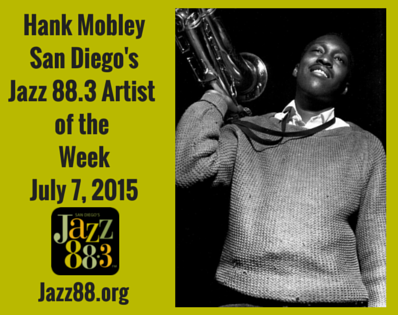 Kick off your Fourth of July Weekend Celebrations on Friday, July 3, 2015 at Noon PT with a 3 hour broadcast of the United States Air Force Band Airmen of Note Jazz Heritage Series 2015 Radio Broadcasts featuring guest artist Bobby Shew, a Tribute to the Greatest Small Jazz Groups, and a Best of Jazz Heritage Series program.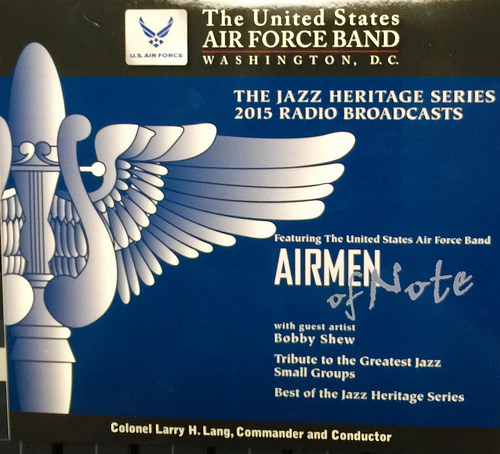 READ THE FULL ARTICLE
for more on the 2015 broadcast...

San Diego Jazz Musician, Composer, Bandleader, Educator, and Innovator Mark Dresser has been named as one of 20 recipients of the Doris Duke Impact Awards for 2015, receiving $80,000 to be used over 3 years as he wishes.
Since April 2014, the foundation has awarded a total of $3.2 million in Impact Awards to 40 artists in the fields of jazz, dance and theatre. The
Doris Duke Impact Award
, in particular, has a unique nomination process, as explained by Ben Cameron, program director for the arts at the Doris Duke Charitable Foundation,
"The Doris Duke Impact Awards are based on nominations submitted by artists, identifying others (often less widely known) that will have enormous impact on the jazz, dance or theatre fields in the future.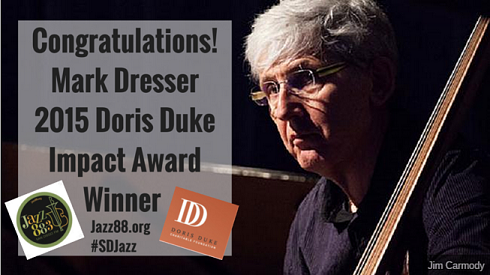 Dresser's reaction to the award, as captured by
Robert Bush, San Diego Jazz Writer, in an NBC San Diego Blog Post
,
"I felt gratified being recognized by this organization and it's especially meaningful to know that I was chosen by a panel made up of distinguished but unknown colleagues in the field. I'm still trying to get a handle on the implications of such a significant financial prize attached and continuing to figure out what that could mean in realizing my music on a more dimensional level."
READ THE FULL ARTICLE
for more coverage of the award, Dresser's music at Jazz 88.3, and more...

Ahmad Jamal, who celebrates his 85th birthday this Thursday, July 2, is the San Diego's Jazz 88.3 Artist of the Week starting June 29, 2015! Your favorite Jazz 88.3 hosts will be playing his music and telling their personal stories of the impact of his music overall and on them personally.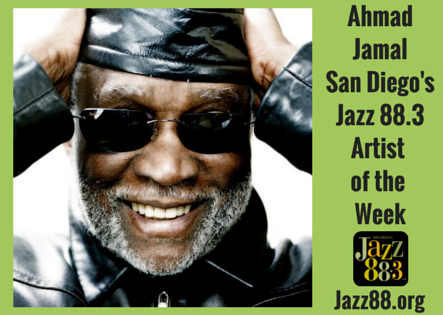 Bill Cunliffe, leader on over 20 albums and winner of both a 2009 Grammy Award and the 1989 Thelonious Monk International Piano Competition is the Jazz 88.3 Artist of the Week starting June 22, 2015. You can hear this fantastic composer, arranger, and pianist's music all week played by your favorite hosts LIVE on San Diego's Jazz 88.3 and Worldwide at Jazz 88.3.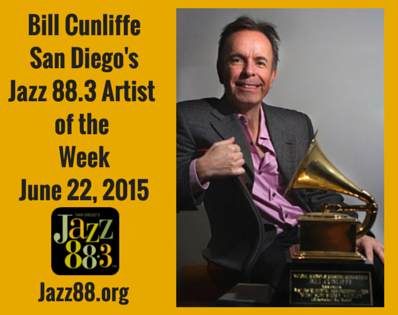 READ THE FULL ARTICLE
for 14 albums you can hear Bill play on and to learn more about our Artist of the Week...

The Jazz Journalists Association (JJA, JazzJournalists.org) celebrated the winners of their 2015 Jazz Journalists Association Jazz Awards at the organization's annual public Jazz Awards party at the Blue Note Jazz Club in New York City on Tuesday, June 16, 2015. The 2015 JJA Awards For Musical Achievement were chosen in 32 categories for achievement in work in 2014 and were previously announced in May 2015. 2015 JJA Jazz Awards for Journalism and Media were announced at the event on Tuesday. Additionally, 23 previously announced 2015 Jazz Journalist Award Jazz Heroes were celebrated at the party.




San Diego's Jazz 88.3 Jazz88.org send BIG CONGRATULATIONS to all the Winners and Jazz Heroes for the great work they do to keep Jazz Alive and Well!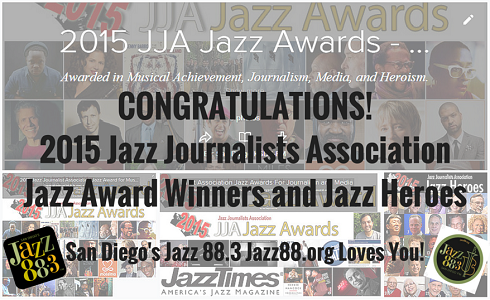 READ THE FULL ARTICLE for additional links, coverage, and pictures of the winners and heroes...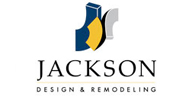 City College Student Radio
KSDS HD2
Listen Live
Pat Launer's Center Stage