Jazz 88.3 Blog

B.B. King, an icon and world wide ambassador for the Blues, has passed away on Thursday, May 14, 2015 at 9:40pm in his sleep at his home in Las Vegas, the San Diego UT is reporting in a long and heart-felt remembrance by George Varga, who had written about B. B.'s many trips to San Diego. "The thrill is gone for millions of music fans around the world", he begins, using the title from a signature piece from King's over 6 decade career in music. At San Diego's Jazz and Blues 88.3, we send out condolences to the family of B. B. King and to his fans and supporters world-wide. READ ON as Blues 88.3 hosts, listeners, and supporters remember B.B. King.

One of the best things I find out in the interviews I have the honor of doing on The New Jazz Thing or as part of Jazz Live San Diego, or just in talking with Jazz and music lovers I come across is the influence of their family and upbringing on what they love as their passion and/or do as their livelihood. And while having a talented Jazz Mom may give you a little step-up in following in her footsteps, there are many other ways that our parents, and Mom's in particular as we head toward Mother's Day 2015, have put us on the path toward the music we love and play and listen to day in and day out. My Mom, in particular, made sure that we listened to big string orchestrated music which I think directly led to my liking of both small ensembles with strings and to the complexity that can come with large ensemble Jazz music.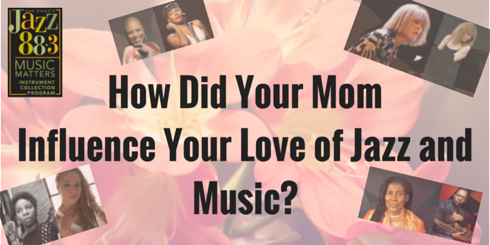 READ THE FULL ARTICLE for remembrances shared by Jazz 88 members, listeners, and staff...and Happy Mother's Day!

It's Gator By The Bay time again and San Diego's Jazz and Blues 88.3 is pleased to be hosting the KSDS Jazz 88 Festival Stage featuring a great musical gumbo of blues, zydeco, honky tonk, boogie woogie, and more from opening night Thursday with BeauSoleil to Mother's Day Sunday close with Brian Jack & The Zydeco Gamblers. Some of your favorite Jazz 88.3 Jazz, Blues, and Second Line on-air hosts at will be keeping the party moving all weekend, so get down to Spanish Landing, Say Hi, and Let The Good Times Roll! Read on for the full list of performers on the KSDS Jazz 88 Festival Stage at the east end of Gator, near the Sheraton! READ THE FULL ARTICLE for full Festival Stage lineup and additional key links!





This is Jazz! 2015, a partnership between the City of Carlsbad Cultural Arts Office and San Diego's Jazz 88.3, concludes the 2015 series on Saturday, May 9 at 4PM in the Carlsbad City Library's Ruby G. Schulman Auditorium with "The Latin Connection In Jazz" featuring Colombian-born, Los Angeles-based flautist, saxophonist, and Latin jazz group leader Justo Almario presented by Jazz 88.3 host of "Latin Grooves" (Sat. Noon-3pm PT)Chris Springer.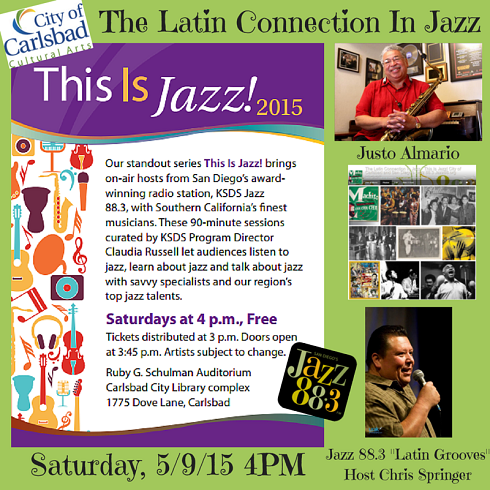 "The Latin Connection In Jazz" has it's roots in the history of Afro-Cuban music through the Golden Era of Latin Music "When Mambo Was King" through today's continued blending of sounds from throughout the northern and southern hemispheres. This wide range of music will be explored through presentation by Chris and the music of Justo Almario, who was among several Colombian musicians recruited by Mongo Santamaria for his band in the 1970s, notably on the album, Afro–Indio (1975). Justo will be joined by Allan Phillips piano, Tommy Aros congas, and Fernando Gomez on Drums.
READ THE FULL ARTICLE for the a photo album illustrating "The Latin Connection in Jazz"...

To join in International Jazz Day Celebrations on this Thursday, April 30, 2015, and on the eve of our launch of the 2015 Music Matters Instrument Drive collection program, part of The Future of Jazz initiative at San Diego's Jazz 88.3 Jazz88.org, we are hosting a guest blog post of The Top Jazz Artists of All Time, as compiled by the students and staff of Napoli School of Music and Dance near Philadelphia, PA.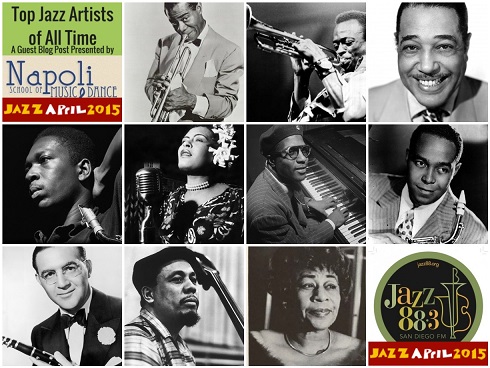 The students at Napoli learn about a wide variety of topics in the jazz realm, including scales, reading, theory, repertoire, and improvisation. Our jazz music lessons take our students through the greats, including Joplin and Gershwin. In preparation for Jazz Appreciation Month, the students were asked who some of their favorite artists were, then the staff worked to put it all together into the first Jazz 88.3 Guest Blog Post...at least that I know of ;) Jazz 88 has taken the YouTube video's selected by Napoli as illustrating each of the artists repertoire and put them into a
playlist
on the
Jazz 88.3 YouTube Channel (SUBSCRIBE!)
.
If you'd like to discuss your ideas for a guest post on the Jazz 88.3 Blog, send me an email at VinceO@Jazz88.org!
READ THE FULL ARTICLE
for today's guest post!

We've got THE BEST fans and followers on social media at Jazz 88.3! To close out our celebration of what would be the 116th birthday of the great Duke Ellington, let's share what the best social media followers and fans in REAL JAZZ RADIO-land think about this icon of America's Original Art Form, Jazz! And you can still get in the act...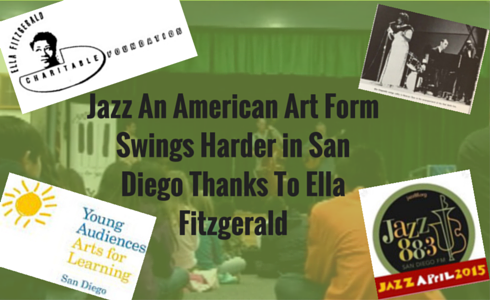 Ella Fitzgerald and San Diego have long and deep ties, from her earliest appearances here in the late 1930's at venues like the Mission Beach Ballroom and through her celebrated accompanists who lived here and still make San Diego home. And to keep the birthday celebration swinging, San Diego's Jazz 88.3 on-air hosts share their thoughts on "Lady Ella" and will be curating some of their favorites tunes featuring the "Queen of Jazz" for you all day Saturday, April 25, the 98th Birthday of "The First Lady of Jazz" and in the weeks ahead.
READ THE FULL ARTICLE
for more on "Jazz An American Art Form", Ella's ties to San Diego, and thoughts and favorites from your Jazz 88.3 On-Air Hosts and Staff.

Proud Mary's Southern Bar and Grill at the Ramada Inn on Kearny Mesa and San Diego's Jazz and Blues 88.3 are bringing San Diego's Finest authentic southern breakfast eats and Live Blues Music together for Sunday's Best Blues Brunch, with the inaugural hit on Sunday, April 21, 2015 from 11am to 3pm.
Proud Mary's owner and chef Michael Jacobs will be creating all new menu items for the Brunch including such items as Grandma's Picnic Basket with Fried Chicken, Hangover Helper with Chicken Fried Steak, unique "Benedicts" with Grandma's recipe scratch Potato Pancakes, Graceland Fosters Waffles, and the Proud Mary's Bloody Brunch. The Blues music will be LIVE with Blues music by harmonica, guitar, bass, drum, singer (whew!) Jon Atkinson with his Allstar Jammers kicking it off, continuing the new sensation that is the Jazz 88.3 Blues Jam each Wednesday evening at Proud Mary's, with Jazz 88.3 On-Air Host J Otis Williams presiding over the Sunday Brunch festivities too!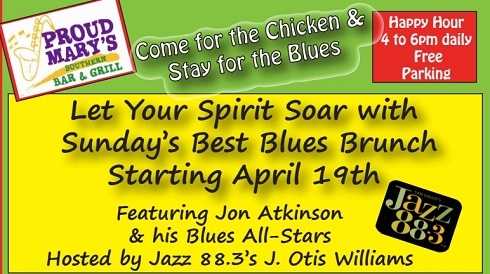 READ THE FULL ARTICLE
for more brunch menu items and information on this great partnership between San Diego's #1 place for Southern cuisine with Live Blues Music and San Diego's #1 Jazz and Blues 24/7 Music Station!

The Missy Andersen Blues Band is coming to Jazz Live San Diego, live from the Saville Theater at San Diego City College and BROADCAST WORLDWIDE via the LISTEN LIVE page at Jazz88.org on Tuesday, April 21, 2015 from 8 to 10 pm PT! You may know that Missy is currently a nominee for a 2015 Blues Music Award from The Blues Foundation in the Soul Blues Female Artist category, to be announced in Memphis, Tennessee on May 7, 2015. But there's a lot more to know about this dynamic, up and coming Blues artist that calls San Diego home!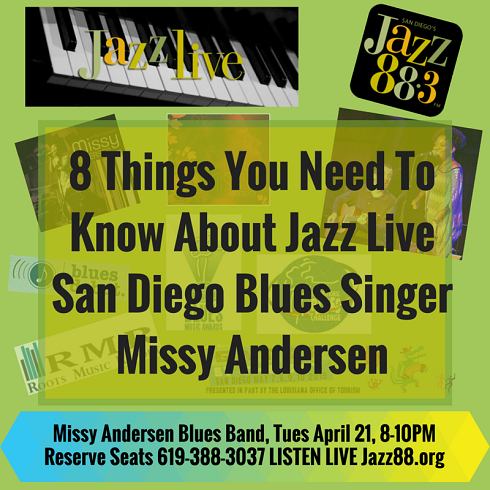 San Diego Jazz and Blues Weekends don't get much better than this 2nd weekend of April 2015's Jazz Appreciation Month, with great concerts and clubs, learning opportunities, and windows to the future of San Diego Jazz. From the This Is Jazz! series in Carlsbad, Middle Earth in Del Mar, Willie Jones III in La Jolla, and the Summer Jazz Workshop Open House Concert and Jam Session in Linda Vista, to Buddy Guy at Downtown San Diego's Historic Balboa Theater, there is Jazz and Blues for everyone to appreciate and celebrate! And you can always check out the Jazz 88.3 Jazz and Blues Calendar for complete listings of Jazz and Blues events, concerts, festivals at top San Diego venues ALL WEEK LONG!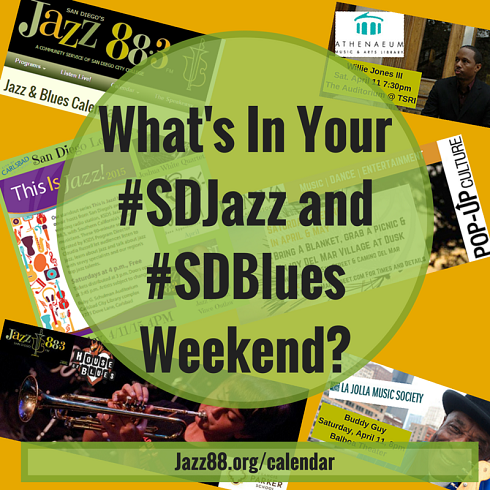 READ THE FULL ARTICLE
for more details and links of some great events presented by our
Jazz 88.3 Partners
!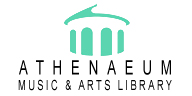 Support Jazz 88.3
while you shop at
Pat Launer's Center Stage