Jazz 88.3 Blog

This is Jazz! 2015, a partnership between the City of Carlsbad Cultural Arts Office and San Diego's Jazz 88.3, continues Saturday, April 11 at 4PM in Carlsbad City Library's Ruby G. Schulman Auditorium with a celebration of Jazz Appreciation Month with San Diego's 2011 Thelonious Monk International Piano Competition Finalist Joshua White and his Quartet and Jazz 88.3 host Vince Outlaw present "San Diego Jazz Legends and Young Lions".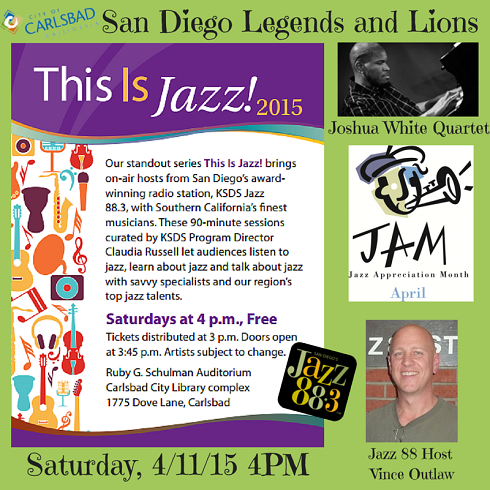 San Diego Jazz has both a rich history and a currently thriving, invigorating and nationally recognized scene, or as San Diego Magazine recently characterized, "the renaissance of West Coast Jazz is happening right here and now." We'll introduce and explore the artists, venues, organizations, media outlets, both past, present, and emerging while hearing music from one of the top Jazz Quartets led by pianist Joshua White, who none other than Herbie Hancock described as a "cutting-edge innovator".
READ THE FULL ARTICLE for the presentation slides from the event and Joshua White's set list from the show (YEA!)...

April 7, 2015 marks the 100th anniversary of the birth of one of the most influential Jazz artists in the history of the music, Billie Holiday. The impact of her music is something that Jazz 88.3 on-air hosts try to communicate when they individually hand-program their daily and weekly shows...As Jazz 88.3's Sue Palmer says,
"What a force Billie was!!!"
To mark the occasion, some of the on-air hosts at Jazz 88.3 have contributed thoughts and some of the digital resources they use when individually programming their music shows for their Jazz 88.3 listeners and supporters.
Jazz 88.3 hosts today will be remembering Lady Day by sharing the great music she has made and influenced with you, so
please LISTEN LIVE
by radio, cable, computer, smartphone wherever you may be.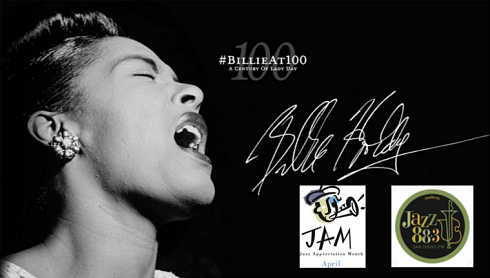 READ THE FULL ARTICLE
for thoughts, links, video's, and more...and then
SHARE YOUR THOUGHTS ON LADY DAY
via a
COMMENT
below or on any of of
SOCIAL MEDIA platforms.

Jazz April is here and Jazz 88.3 is EXCITED! With the Smithsonian's Jazz Appreciation Month celebrated here in the United States throughout April and ending with UNESCO's International Jazz Day on Thursday, April 30, 2015, There are LOTS YOU CAN DO TO CELEBRATE! It's the perfect month to discover a new group or genre of Jazz. Check out one of the local Jazz clubs. Try your hand at writing a review of one of the new albums at Jazz 88.3 (we'll publish it!). Add the Jazz Appreciation Month logo or a Jazz April Twibon to your social media profile.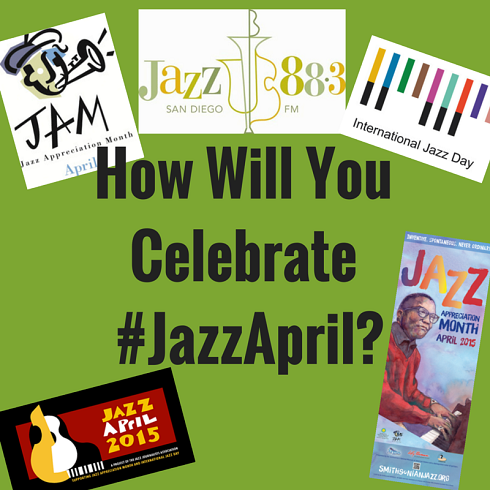 READ THE FULL ARTICLE
for our handy list of ideas and links and then tell us how you plan to celebrate with a COMMENT BELOW or on our social media pages at Facebook, Twitter, Google+, LinkedIn!

Jazz 88.3 and our Jazz and Arts Partners are launching Jazz Appreciation Month in Jazz April with FREE TICKETS through the Jazz 88 Speakeasy.
SIGN-UP
for
/ LOGIN
with your FREE Jazz 88 Speakeasy account at
http://Jazz88.org/speakeasy
, then click the
Enter Giveaway

Charles Lloyd, Jazz saxophonist, composer, arranger, in his 6th decade of performing and who will receive his 2015 NEA Jazz Master recognition in April, 2015, is San Diego's Jazz 88.3 Artist of the Week for March 16, 2015. His life and music will be celebrated by Jazz 88.3 hosts all week. Ruby Braff, Tommy Flanagan, Lem Winchester, Harold Mabern, Marian McPartland will be the featured artists each weekday from Noon to 1pm PT on Portrait in Jazz with Joe Kocherhans. Before we share more information on these past and living Jazz legends....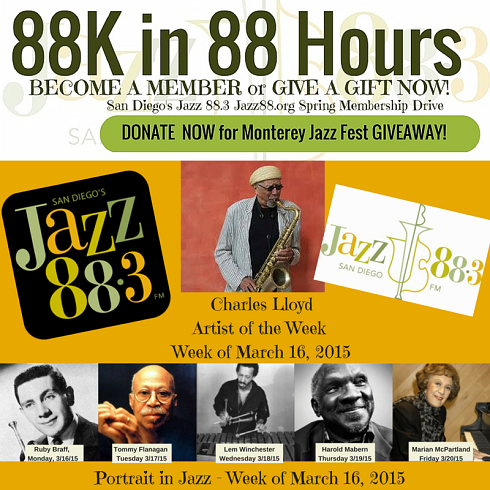 READ THE FULL ARTICLE for more on our featured artists...

This is Jazz! 2015, a partnership between the City of Carlsbad Cultural Arts Office and San Diego's Jazz 88.3, continues Saturday, March 14 at 4PM in Carlsbad City Library's Ruby G. Schulman Auditorium with a celebration of Women's History Month as San Diego's Queen of Boogie Woogie (and Jazz 88.3 weekend host) Sue Palmer and Jazz 88.3 host Janine Harty present "Women In Jazz".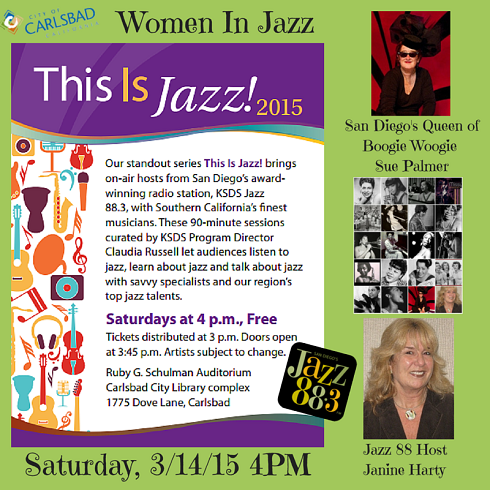 The New Grove Dictionary of Jazz
says ""Women have participated on every instrument, in every style, and in every era of jazz history. Yet, with the notable exception of singers and a number of pianists, female jazz musicians have been continuously overlooked in the most prestigious areas of jazz practice, marketing, and documentation." Sue and Janine attempt to set the record straight with a program illustrating, through both music and words, the contribution of women in Jazz from pre-1920's through today.
READ THE FULL ARTICLE
for images of some of the women to be featured along with more information...

The La Jolla Music Society and ArtPower! at UCSD are teaming up with San Diego's Jazz 88.3 Jazz 88.org to OFFER YOU FREE TICKETS to their upcoming performances!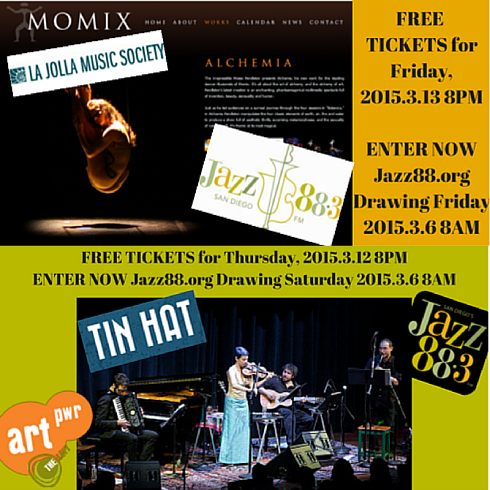 UPDATE: Ticket giveaway closed Friday morning at 9:30am. CONGRATULATIONS Jerry C., Rick V, Miriam K, Kim C, and James S! Tickets still available for this show!
READ THE FULL ARTICLE for more on this dynamic young lion of Jazz...

READ THE FULL ARTICLE
for more on Kei and his band from Japan...

The Jazz World is honoring the life of one of the greats today at the news of the passing of Jazz Trumpter, Educator, Mentor and more, Clark Terry. His wife Gwen Terry made the following announcement on his website on Saturday evening,



"Our beloved Clark Terry has joined the big band in heaven where he'll be singing and playing with the angels. He left us peacefully, surrounded by his family, students and friends. Clark has known and played with so many amazing people in his life. He has found great joy in his friendships and his greatest passion was spending time with his students. We will miss him every minute of every day, but he will live on through the beautiful music and positivity that he gave to the world. Clark will live in our hearts forever.




With all my love, Gwen Terry"
The family has asked the Jazz world to post their remembrances on the website
Guestbook
and
Facebook
pages.
San Diego's Jazz 88.3 would like to highlight comments from our listeners and supporters and the rest of the San Diego Jazz Community.
We offer our Comments section at the end of this blog post
as a place to share links to your personal remembrances and links to special articles about Clark Terry.
READ THE FULL ARTICLE to follow updated comments from San Diego's Jazz 88.3 hosts, San Diego Jazz artist and community, and links to other news about the passing of "Mumbles"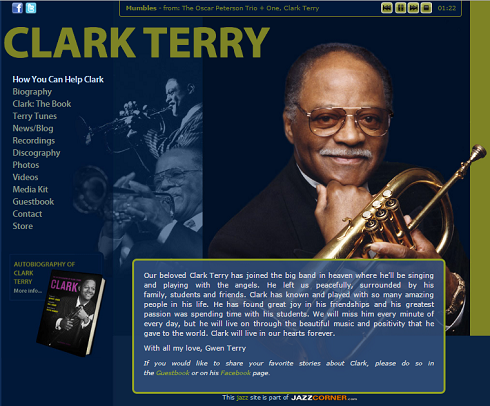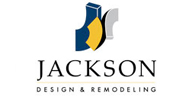 Support Jazz 88.3
while you shop at
Pat Launer's Center Stage