Your ears will be overflowing with 23 new Jazz music releases the week of May 18, 2015 in this Jazz Live San Diego Week (Kronomorfic, Tuesday, May 19, 2015 8-10pm PT) with the latest releases by former performers at our monthly concert and radio show Joshua Breakstone (Jazz Live 4/14/14, new "2nd Avenue") and Billy Mintz (JL 10/8/13, new "The 2nd Bass Band...Live").
Jazz 88.3 hosts will be introducing you to these new releases all week, so
Listen Long, Often, and LIVE at 88.3 FM San Diego and Worldwide at Jazz88.org
! You can check out the debut of all the new releases each week on
The New Jazz Thing with Vince Outlaw, Monday evenings 6-8pm PT
.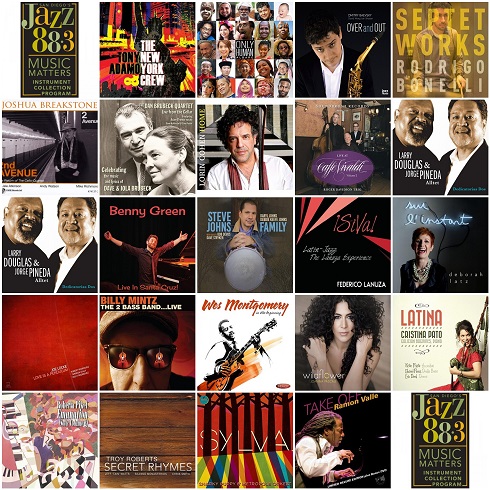 TONY ADAMO – "THE NEW YORK CREW"
ALBARE – "ONLY HUMAN"
DMITRY BAEVSKY – "OVER AND OUT"
RODRIGO BONELLI – "SEPTET WORKS"
JOSHUA BREAKSTONE – "2ND AVENUE"
DAN BRUBECK QUARTET – "CELEBRATING THE MUSIC OF DAVE AND IOLA BRUBECK"
LORIN COHEN – "HOME"
ROGER DAVIDSON TRIO – "LIVE AT CAFFE VIVALDI"
LARRY DOUGLAS & JORGE PINEDA ALLTET – "DEDICATORIAS DOS"
EUGENIE JONES – "COME OUT SWINGIN'"
BENNY GREEN – "LIVE IN SANTA CRUZ"
STEVE JOHNS – "FAMILY"
FEDERICO LANUZA – "ꜟSIVA!"
DEBORAH LATZ – "SUR L'INSTANT"
JOE LOCKE – "LOVE IS A PENDULUM"
BILLY MINTZ – "THE 2 BASS BAND…LIVE"
WES MONTGOMERY – "IN THE BEGINNING"
JOANNA PASCALE – "WILDFLOWER"
CRISTINA PATO – "LATINA"
ROBERTA PIKET – "EMANATION-SOLO: VOLUME 2"
TROY ROBERTS – "SECRET RHYMES"
SNARKY PUPPY & METROPOLE ORKEST – "SYLVA"
RAMON VALLE – "TAKE OFF"
READ THE FULL ARTICLE for links to artists websites and social networks, release reviews, and additional listening notes from the Jazz 88 Music staff....