2015

Jazz 88.3 and House of Blues present the Summer Jazz Workshop Open House & Concert today at Francis Parker School. The free event runs from 3-5pm today. The Ambassadors of Soul Big Band will perform, as will the Workshop Faculty All-Stars. After that it's a Jazz Jam with Middle and High School students invited to the bandstand. Francis Parker School is located at 6501 Linda Vista Rd, 92111. Hear the Future!

San Diego Jazz and Blues Weekends don't get much better than this 2nd weekend of April 2015's Jazz Appreciation Month, with great concerts and clubs, learning opportunities, and windows to the future of San Diego Jazz. From the This Is Jazz! series in Carlsbad, Middle Earth in Del Mar, Willie Jones III in La Jolla, and the Summer Jazz Workshop Open House Concert and Jam Session in Linda Vista, to Buddy Guy at Downtown San Diego's Historic Balboa Theater, there is Jazz and Blues for everyone to appreciate and celebrate! And you can always check out the Jazz 88.3 Jazz and Blues Calendar for complete listings of Jazz and Blues events, concerts, festivals at top San Diego venues ALL WEEK LONG!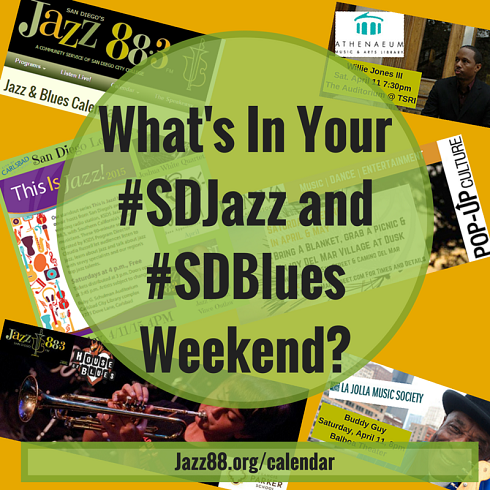 READ THE FULL ARTICLE
for more details and links of some great events presented by our
Jazz 88.3 Partners
!

This is Jazz! 2015, a partnership between the City of Carlsbad Cultural Arts Office and San Diego's Jazz 88.3, continues Saturday, April 11 at 4PM in Carlsbad City Library's Ruby G. Schulman Auditorium with a celebration of Jazz Appreciation Month with San Diego's 2011 Thelonious Monk International Piano Competition Finalist Joshua White and his Quartet and Jazz 88.3 host Vince Outlaw present "San Diego Jazz Legends and Young Lions".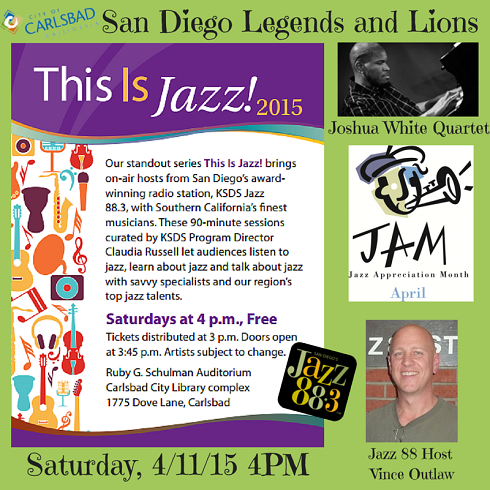 San Diego Jazz has both a rich history and a currently thriving, invigorating and nationally recognized scene, or as San Diego Magazine recently characterized, "the renaissance of West Coast Jazz is happening right here and now." We'll introduce and explore the artists, venues, organizations, media outlets, both past, present, and emerging while hearing music from one of the top Jazz Quartets led by pianist Joshua White, who none other than Herbie Hancock described as a "cutting-edge innovator".
READ THE FULL ARTICLE for the presentation slides from the event and Joshua White's set list from the show (YEA!)...

April 7, 2015 marks the 100th anniversary of the birth of one of the most influential Jazz artists in the history of the music, Billie Holiday. The impact of her music is something that Jazz 88.3 on-air hosts try to communicate when they individually hand-program their daily and weekly shows...As Jazz 88.3's Sue Palmer says,
"What a force Billie was!!!"
To mark the occasion, some of the on-air hosts at Jazz 88.3 have contributed thoughts and some of the digital resources they use when individually programming their music shows for their Jazz 88.3 listeners and supporters.
Jazz 88.3 hosts today will be remembering Lady Day by sharing the great music she has made and influenced with you, so
please LISTEN LIVE
by radio, cable, computer, smartphone wherever you may be.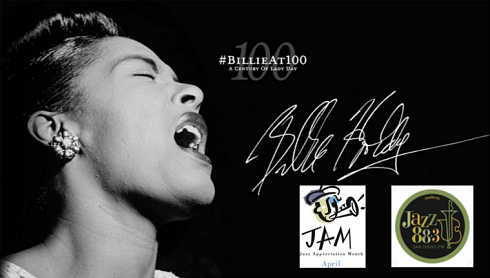 READ THE FULL ARTICLE
for thoughts, links, video's, and more...and then
SHARE YOUR THOUGHTS ON LADY DAY
via a
COMMENT
below or on any of of
SOCIAL MEDIA platforms.

Jazz 88.3 celebrates New Jazz Music WEEKLY with the addition of new Jazz releases into the Jazz 88.3 Music Library...and the week of April 6, 2015 is no different with new music from some of the most recognizable names in Jazz including Cohen, Coryell, Elias, Gadd, Mabern, and Sanborn. We've also got the new release from Nhojj who will be performing with San Diego's Peter Sprague for Jazz Against Malaria (JAM) 2015, Sunday, April 26 at 4pm.
You can check out the debut of all the new releases each week on
The New Jazz Thing with Vince Outlaw, Monday evenings 6-8pm PT
and then your favorite Jazz 88.3 Hosts will be adding them to their playlists for YOU to enjoy and learn!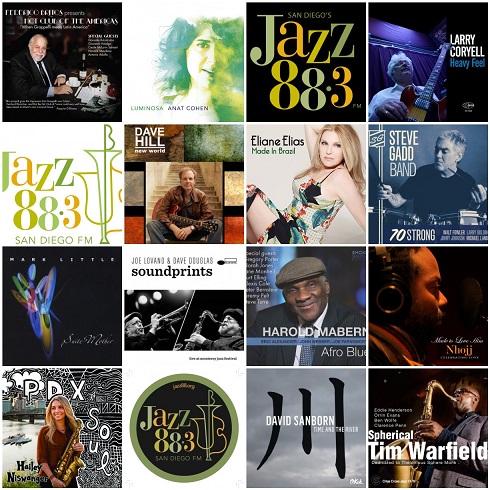 "FEDERICO BRITOS PRESENTS THE HOT CLUB OF THE AMERICAS"
ANAT COHEN – "LUMINOSA"
LARRY CORYELL – "HEAVY FEEL"
DAVE HILL – "NEW WORLD"
ELIANE ELIAS – "MADE IN BRAZIL"
STEVE GADD BAND – "70 STRONG"
MARK LITTLE – "SUITE MOTHER"
JOE LOVANO & DAVE DOUGLAS – "SOUND PRINTS"
HAROLD MABERN – "AFRO BLUE"
NHOJJ – "MADE TO LOVE HIM"
HAILEY NISWANGER – "PDX SOUL"
DAVID SANBORN – "TIME AND THE RIVER"
TIM WARFIELD – "SPHERICAL"

Jazz April is here and Jazz 88.3 is EXCITED! With the Smithsonian's Jazz Appreciation Month celebrated here in the United States throughout April and ending with UNESCO's International Jazz Day on Thursday, April 30, 2015, There are LOTS YOU CAN DO TO CELEBRATE! It's the perfect month to discover a new group or genre of Jazz. Check out one of the local Jazz clubs. Try your hand at writing a review of one of the new albums at Jazz 88.3 (we'll publish it!). Add the Jazz Appreciation Month logo or a Jazz April Twibon to your social media profile.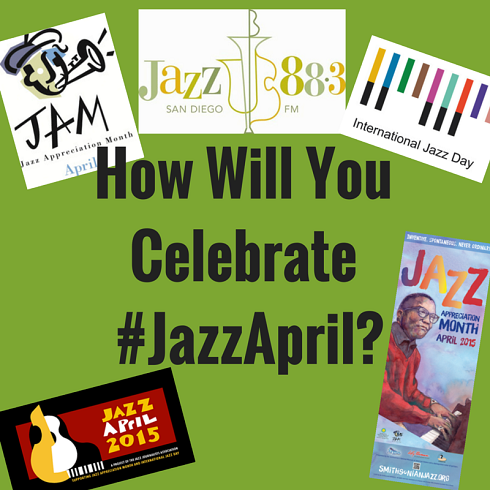 READ THE FULL ARTICLE
for our handy list of ideas and links and then tell us how you plan to celebrate with a COMMENT BELOW or on our social media pages at Facebook, Twitter, Google+, LinkedIn!

Jazz 88.3 and our Jazz and Arts Partners are launching Jazz Appreciation Month in Jazz April with FREE TICKETS through the Jazz 88 Speakeasy.
SIGN-UP
for
/ LOGIN
with your FREE Jazz 88 Speakeasy account at
http://Jazz88.org/speakeasy
, then click the
Enter Giveaway

The Jazz 88.3 Music Library is overflowing again with 14 New Jazz Releases being added the week of March 30, 2015, including the latest release from Jazz Live San Diego Alum Lisa Hilton. You can check out their debut each week on The New Jazz Thing with Vince Outlaw, Monday evenings 6-8pm PT and then your favorite Jazz 88.3 Hosts will be adding them to their playlists for YOU to enjoy and learn!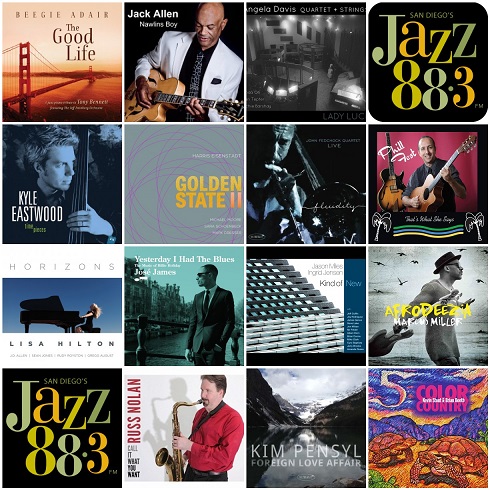 BEEGIE ADAIR – "THE GOOD LIFE"
JACK ALLEN – "NAWLINS BOY"
ANGELA DAVIS – "LADY LUCK"
KYLE EASTWOOD – "TIME PIECES"
HARRIS EISENSTADT - "Golden State II"
JOHN FEDCHOCK QUARTET LIVE – "FLUIDITY"
PHILL FEST – "THAT'S WHAT SHE SAYS"
LISA HILTON – "HORIZONS"
JOSÉ JAMES – "YESTERDAY I HAD THE BLUES: MUSIC OF BILLIE HOLIDAY"
JASON MILES / INGRID JENSEN – "KIND OF NEW"
MARCUS MILLER – "AFRODEEZIA"
RUSS NOLAN – "CALL IT WHAT YOU WANT"
KIM PENSYL – "FOREIGN LOVE AFFAIR"
KEVIN STOUT & BRIAN BOOTH – "COLOR COUNTRY"

Jazz keyboardist and innovator Marc Cary's "Rhodes Ahead, Vol. 2" is once again "energizing" as he picks up 14 years later after the first volume in 2001 and leads the way in a list of great New Releases to San Diego's Jazz 88.3 Music Library for the week of March 23, 2015.
You can check out their debut each week on
The New Jazz Thing with Vince Outlaw, Monday evenings 6-8pm PT
and then your favorite Jazz 88.3 Hosts will be adding them to their playlists for YOU to enjoy and learn!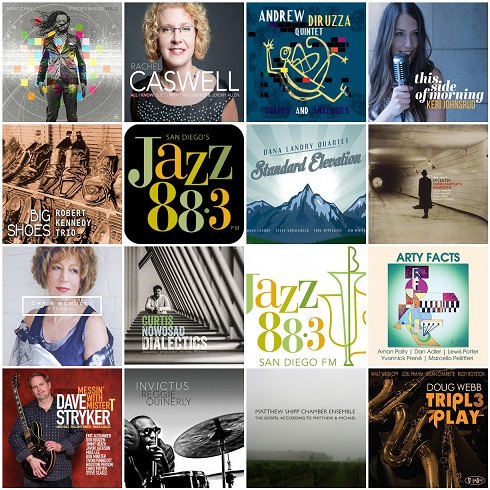 MARC CARY – "RHODES AHEAD, VOL.2"
RACHEL CASWELL – "ALL I KNOW"
ANDREW DiRUZZA QUINTET – "SHAPES AND ANALOGIES"
KERI JOHNSRUD – "THIS SIDE OF MORNING"
ROBERT KENNEDY TRIO – "BIG SHOES"
DANA LANDRY QUARTET – "STANDARD ELEVATION"
CHRIS LIGHTCAP'S BIGMOUTH - "EPICENTER"
CHRIS McNULTY – "ETERNAL"
CURTIS NOWOSAD – "DIALECTICS"
PALTY, ADLER, PORTER, PRENÉ, PELLITERI – "ARTY FACTS"
DAVE STRYKER – "MESSIN' WITH MISTER T"
REGGIE QUINERLY – "INVICTUS"
MATTHEW SHIPP – "THE GOSPEL ACCORDING TO MATTHEW AND MICHAEL"
DOUG WEBB – "TRIPLE PLAY"

Heads-up
Jazz 88.3 Happy Hour goers
! Our monthly happy hour at the historic and newly renovated
Lafayette Hotel
will now take place on the
FIRST THURSDAY OF EVERY MONTH from 5-7:30PM
! So be sure to mark your calendars, grab your dancing shoes and plan to groove to great live music
TONIGHT(!)
with
Lower Left
, featuring Jazz 88.3's very own,
Barry Farrar
!
Also, please note
: There's a
$10 cover charge
(cash only!) and you
MUST be 21+
to attend! Oh, and if you're worried about parking, don't fret--there's an overflow parking lot (
FREE!
) on the corner of Howard and Texas Streets. We'll see you
TONIGHT
in the
Mississippi Ballroom
!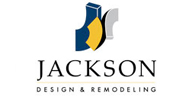 Support Jazz 88.3
while you shop at
Pat Launer's Center Stage