2016
"America's Finest Jazz & Blues from America's Finest City"

It will be another all-star evening at the Saville Theatre TONIGHT. Jazz Live. Drummer and Leader Jeff Hamilton returns to City College and is bringing his killer band with him. Tamir Hendleman on piano and Christoph Luty on the bass. This show will be in high-demand so be sure to reserve your tickets in the Speakeasy right away. If you need to purchase tickets you can do so by calling 619-388-3743. Follow the traditional parking protocol and use the parking pass. READ ON FOR THE JAZZ LIVE AUDIO PREVIEW and More...

It will be sheer madness for the next Jazz Live TONIGHT! Acclaimed saxophonist Rickey Woodard is bringing some tenor giants to the Saville Theatre (Justo Almario and Charles Owens) for a terrific night of music. If you are a current and valid Jazz 88 member you can reserve your tickets in the Speakeasy. If you need to purchase tickets please call 619-388-3743. As always, print the parking pass for your car. READ ON for Jazz Live ENTIRE CONCERT AUDIO, Pics, More...
A packed house enjoyed San Diego's Lower Left Trio performance on Jazz 88.3's San Diego Sessions Live airing Sunday, June 26, 2016 at 8pm PT!
Jazz 88.3 host Barry Farrar (Percussive Profiles, Thurs 10pm-Midnight PT; 'Round Midnight, Tues-Sat Midnight-2am PT) is the drummer and founder of Lower Left, with pianist Mikan Vlatkovich, and bassist Antar Martin rounding out the trio, captured live in San Diego. Click the LISTEN LIVE button or link to popup the browser player...so easy to LISTEN NOW!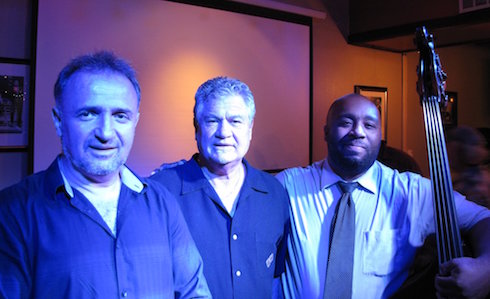 Our June Membership Drive was a tremendous success. We heard from old members who re-joined the family and welcomed in a slew of new members. The station can only do what we do because of YOUR SUPPORT, so thank you. On behalf of the entire staff, we wish you a great summer and look forward to the many years of music ahead. Check out the poll results that we conducted during the drive for the favorite artist(s).
Jazz fans in San Diego and across the world showed their support for Live, Human-Programmed and Presented, Jazz and Blues Radio at KSDS San Diego's Jazz 88.3 with their financial support during our 2016 Spring Membership Campaign AND by telling us their favorite Jazz and Blues Artists. Here is the top 10 artists as indicated by new donors and members during the campaign. THANK YOU FOR YOUR SUPPORT!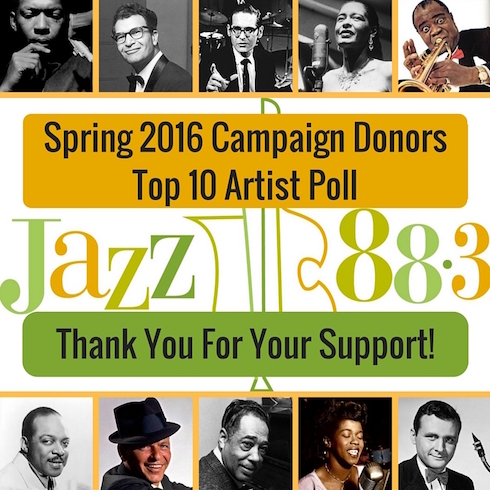 01. John Coltrane
02. Dave Brubeck
03. Bill Evans
04. Billie Holiday
05. Louis Armstrong
06. Count Basie
07. Frank Sinatra
08. Duke Ellington
09. Sarah Vaughan
10. Stan Getz
San Diego Jazz Artists are hard at work creating new releases for 2016 and beyond! The San Diego Jazz Journalism community is on the case, writing reviews and getting interviews. #SDJazz fans are talking about it on Blogs and Social Media sites like SoundDiego and hearing the music and voices on shows like Jazz 88.3's Jazz Live San Diego, Afternoon Jazz, with more shows and interviews on-demand in the Jazz 88 Speakeasy!
One of the esteemed Jazz Journalists in San Diego, Robert Bush, has promised more reviews of new work from artists like "... Ian Tordella, Rob Thorsen, Danny Green, Butch Lacy +Mark Dresser, Peter Kuhn, Nathan Hubbard just off the top of my head", so looking forward to that! The San Diego Union Tribune, San Diego Troubador, SD Free Press, and more are publishing all the time!
Lori Bell's "Brooklyn Dreaming" gets us started...more to come, we promise!
READ THE ENTIRE ARTICLE
for reviews, interviews, and comments...

Al Di Meola will hit the Music Box Stage on Wednesday, June 15th at 8PM. A bona fide guitar hero and perennial poll-winner, Al Di Meola has been recognized internationally over the past four decades as virtuoso of the highest order. A prolific composer and prodigious six-string talent, Di Meola has amassed over 20 albums as a leader while collaborating on a dozen or so others. This is going to be one epic concert! Please Note: This event is 21+. Click here for more information, or to purchase tickets!

Jackson Design and Remodeling
has a new extension to their brand: a 9,000 sq. ft. selection center called
Home Expressions
! The grand opening will be Saturday, June 18th from 12-4PM and will be one to remember because you'll have the chance to not only explore Home Expressions, but you'll also have the chance to meet
Jeff Lewis
, star of Bravo's "Flipping Out,"
and
enjoy music by
Gilbert Castellanos
! You can also enjoy food, a champagne toast, and mingle with your San Diego friends and neighbors.
Home Expressions
is located at 8135 Ronson Rd., San Diego, CA 92111 (right next door to Jackson Design and Remodeling). RSVP is required--click
here
to do so! It's going to be an inspiring and lively open house you truly won't want to miss!