2016

Saturday, April 9, KSDS will bring the curtain up on a whole new lineup of weekend programming, with some old favorites and new shows as well. Join us next Saturday for the new sound of Jazz and Blues on Jazz 88.3, KSDS.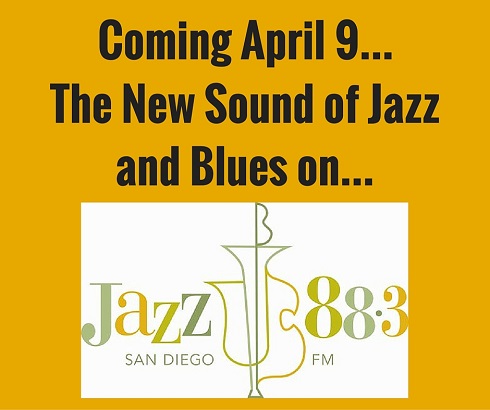 San Diego's KSDS-FM Jazz 88.3 celebrates Jazz Appreciation Month April 2016 with Smithsonian Jazz with some fantastic events to highlight "the extraordinary heritage and history of jazz", shining a spotlight on the role of Jazz in San Diego in the past, present, and future.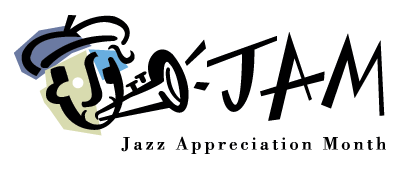 READ THE ENTIRE ARTICLE
for details on just some of the events planned to celebrate Jazz Appreciation Month 2016 and the month's featured artist!

"DAVE ANDERSON'S BLUE INNUENDO"
CHERYL BENTYNE – "LOST LOVE SONGS"
MICHAEL BLAKE – "FULFILLMENT"
BILL CHARLAP TRIO – "NOTES FROM NEW YORK"
GEORGE COLEMAN – "A MASTER SPEAKS"
MATT CRISCUOLO – "THE DIALOGUE"
JON CROWLEY – "I WALK AMONGST THE HUMANS"
ELI DEGIBRI – "CLIFF HANGIN'"
MARTY ELKINS – "WALKIN' BY THE RIVER"
JACKIE GAGE – "SIREN SONGS"
SOCRATES GARCIA – "BACK HOME"
HIROMI – "SPARK"
KARL LATHAM – "LIVING STANDARDS"
ALLISON MILLER'S TIC BOOM – "OTIS WAS A POLAR BEAR"
JASON MILES – "TO GROVER WITH LOVE: LIVE IN JAPAN"
BRUCE TORFF – "DOWN THE LINE"
YELLOWJACKETS – "COHEARANCE"
READ THE FULL ARTICLE
for links to artists websites, release reviews, and additional listening notes from the Jazz 88 Music staff....

San Diego School of Creative and Performing Arts' Jazz Ensemble has been chosen to go to New York City to compete in the "Essentially Ellington Swing Competition," May 5-7th. This band is one of only 15 bands chosen throughout the United States and Canada to compete. Please help these kids and DONATE to their cause for their journey to NYC! Here's more information about the band. Speaking of the band, they will be performing HERE AT CITY COLLEGE (Saville Theatre) TONIGHT (on Duke Ellington's Birthday). WE ARE BROADCASTING LIVE NOW (FOR A ONE HOUR PERFORMANCE). This event is FREE to the public. If you do head down use the parking pass. Again, it is our pleasure to offer our support to these talented kids...PLEASE DONATE!

Saxophonist Joe Marillo passed away on Saturday, March 26, 2016. Jazz and Passion were in his every breath. Those who knew him, studied with him, or even just heard him play one time, know this as fact. He will be missed. His family will hold a nonmusical Celebration of Life at Java Joe's on Monday, April 4, at 6:00pm. Also, a Birthday Tribute to Joe Marillo will be held Tuesday, May 24, at Dizzy's. This event, which will include a jam session at some point, begins at 7:30pm.

Happy Hour Goers--please note that our monthly Happy Hour at the Lafayette Hotel is on hiatus for a bit! We hope to continue the event in the near future and will surely let you know well ahead of time when it's back in full-swing. To all the happy hour faithful, we thank you for the support over the last few years. We'll see you soon!

House of Blues
is pleased to support
Jazz 88.3's Summer Jazz Workshop
in partnership with
Francis Parker School
. The 6th annual jazz workshop is open to middle and high school students and will be held at Francis Parker School
July 11th-25th
(in two-week sessions). The program includes lessons in performance, improvisation, theory and jazz history. Students will also perform at the HOB on the Saturday following each session. The Jazz 88.3 Summer Jazz Workshop is open to beginning, intermediate and advanced jazz students.
REGISTER NOW
!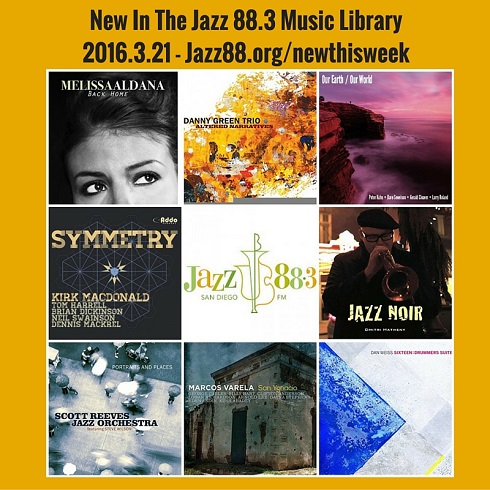 NYTIMES: "A supremely focused statement"

KSDS is celebrating San Diego's rich jazz heritage with some very special concerts! The second one will be
TONIGHT
at
7:30PM at Hoover High School
and it will celebrate the informal beginning of
The Gerry Mulligan Sextet
. The group only lasted a couple of years but was one of the most unique small groups in jazz history and is often overlooked. Out of all of Mulligan's ensembles, the sextet was one of his favorites. This is
not
a re-creation of the original concert, rather a celebration of it! We will be forming a group of world-class jazz musicians to perform the original arrangements and it will be a rare opportunity to hear the music played live.
Pete Christlieb will be filling the baritone chair
and
Harry Allen
(tenor) will play the Zoot Sims book.
Ron Stout (trumpet), Linda Small (trombone), Jim Hughart (bass). Kendall Kay (drums) and Mike Wofford (piano)
are also tapped for this special night.
Tickets are only $20
(cash only if you're paying at the door the night of the concert
)!
Make your reservation NOW by calling 619-388-3743.

Coming up on the next session of The New Jazz Thing with Vince Outlaw, airing Tuesday, March 22, 2016, Midnight to 2am, then available for On-Demand Streaming (Podcast coming soon) later Tuesday morning...
Danny Green Trio "Altered Narratives" Interview
Pianist Danny Green stops by to chat about his latest and third release with his Trio (Justin Grinnell bass and Julien Cantelm drums), "Altered Narratives".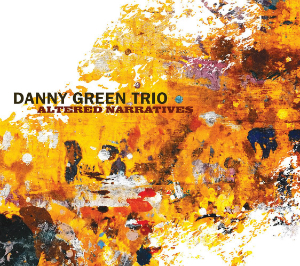 Sue Palmer "The Thunderbird Sessions" Interview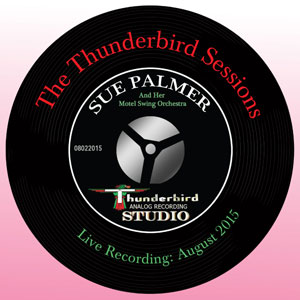 Support Jazz 88.3
while you shop at
Pat Launer's Center Stage