Jazz 88.3 Blog

Jennifer Leitham stopped by the Jazz 88.3 studios to chat with Claudia Russell, host of The Jazz Ride Home (Weekdays, 4-8pm PT), about her Thursday, March 3 appearance at the Jazz 88.3 Happy Hour at the Lafayette Hotel, her recent release "Mood(S)wings", and long journey in Jazz music. Check out the interview and GET HAPPY!




The San Diego City College Dramatic Arts Program presents the world premiere of the Festival of New Plays.
Performances are
THIS Friday and Saturday night at 8:00 p.m. in the new Black Box Theatre at City College in the Arts and Humanties Building (AH)
. As the first production in the 98-seat Black Box Theatre, City College is inaugurating the space by introducing seven original scripts written by City College students. There will be a talk-back with the playwrights following the performance this Friday (March 11). Here is the
ticket information
.

LISTEN LIVE to the next session of The New Jazz Thing with Vince Outlaw, aired Tuesday, March 1, 2016, Midnight to 2am, available for On-Demand Streaming (Podcast coming soon)...but first...
READ THE FULL ARTICLE
for the show playlist, links, and more!

Check out all the new releases to the Jazz 88 Music Library the week of February 29, 2016! Tune in all week for New Jazz Music specially selected by your Jazz 88 on-air hosts. Tune into The New Jazz Thing with Vince Outlaw (Airing: Tuesday, Midnight-2am; On-Demand Immediately After) for 2 hours of all New Jazz Music and Jazz News.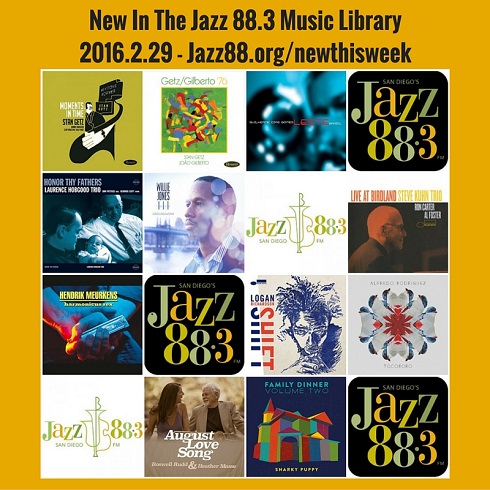 STAN GETZ – "MOMENTS IN TIME"
JOÃO GILBERTO / STAN GETZ – "GETZ / GILBERTO '76"
GUILHERME DIAS GOMES – "LESTA"
LAURENCE HOBGOOD TRIO – "HONOR THY FATHERS"
WILLIE JONES III – "GROUNDWORK"
STEVE KUHN – "AT THIS TIME"
HENDRIK MEURKENS – "HARMONICUS REX"
LOGAN RICHARDSON – "SHIFT"
ALFREDO RODRIGUEZ – "TOCORORO"
ROSWELL RUDD & HEATHER MASSE – "AUGUST LOVE SONG"
SNARKY PUPPY – "FAMILY DINNER, VOL.2"
READ THE FULL ARTICLE
for links to artists websites, release reviews, and additional listening notes from the Jazz 88 Music staff....

Heads-up Happy Hour goers! Join us
TONIGHT
at
5PM
for our monthly Happy Hour! Acclaimed bassist,
Jennifer Leitham
will be bringing a terrific trio for your listening pleasure! And as usual, it'll all take place in the
Mississippi Ballroom
at the historic and stunning
Lafayette Hotel
located on El Cajon Boulevard. There will also be delicious (hosted) appetizers and happy hour drink prices! There's a
$10 cover charge
(
cash only!
) and you MUST be
21+
to attend. We'll see you there!

The Jazz Live momentum for 2016 continues with another great concert. Bassist and vocalist, Katie Thiroux, will be bringing a quartet TONIGHT at 8pm. Her stellar band includes Graham Dechter on guitar, Roger Neumann on saxophone and Matt Witek on drums. If you are a valid Jazz88 member you can reserve up to two tickets in the Speakeasy- if you don't have an account its easy to join...and free! If you need to purchase tickets or want more information please call 619-388-3743. Be sure to print the parking pass...it's a must.

The first-ever KSDS San Diego Blues Club Caravan will take place Tuesday, April 18, from 6-11 PM. About a dozen clubs will be participating. We'll have buses going from club to club, stopping about every 10-15 minutes. With your Caravan pass, you can start at any participating venue, stay as long or as little as you like, then board the bus to the next club. There are no minimums at any of the venues; buy food and drink, or not, as you choose. Any time you like, take the bus back to where you started. Details on specific clubs and bands will be available closer to the date of the Caravan. For more information please call Ken Borgers at 619-388-3301.

The International Academy of Jazz San Diego (IAJSD.org) has been selected from over 130 groups to compete in the Next Generation Jazz Festival (NGJF), April 8-10, 2016 in Monterey, California, for a chance to perform at the legendary Monterey Jazz Festival in September 2016. IAJ-SD, a nonprofit 501c3 providing after school music enrichment in Jazz studies patterned after youth symphonic programs, will be the only group representing San Diego in the weekend of competition, learning, and engagement by top Jazz artists and competition judges including Grammy-award winner Terri Lyne Carrington and San Diego's own Gilbert Castellanos. IAJ-SD has kicked off a fundraising drive to help with costs of transportation, housing, and other expenses for a select group of students to go to NGJF. IAJ-SD board member Arlene Damasco and Executive Director Guy Gonzalez stopped by The New Jazz Thing with Vince Outlaw on Monday, February 22, 2016 to fill us in on the details of the upcoming competition and ask for help to reach their fundraising goals.










Coming up on the next session of The New Jazz Thing with Vince Outlaw, airing Tuesday, February 23, 2016, Midnight to 2am, then available for On-Demand Streaming (Podcast coming soon) later Tuesday morning...

GOGO PENGUIN – "MAN MADE OBJECT"
JOSEPH HOWELL – "TIME MADE TO SWING"
THAD JONES / MEL LEWIS JAZZ ORCHESTRA – "ALL MY YESTERDAYS"
GRACE KELLY – "TRYING TO FIGURE IT OUT"
JULIAN LAGE – "ARCLIGHT"
DANIELA MERCURY – "VIRTUAL VINYL"
ARK OVRUTSKI QUINTET – "INTERSECTION"
KEN PEPLOWSKI – "ENRAPTURE"
CURTIS ROBINSON ("THE DOCTOR") – "DANCING IN THE STREET"
HENRY ROBINETT – "I HAVE KNOWN MOUNTAINS"
READ THE FULL ARTICLE
for links to artists websites, release reviews, and additional listening notes from the Jazz 88 Music staff....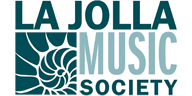 City College Student Radio
KSDS HD2
Listen Live
Pat Launer's Center Stage