Jazz 88.3 Blog

Saxophonist, Bandleader, and Author of "Dameronia: The Life and Music of Tadd Dameron", Paul Combs, dropped into the Jazz 88.3 studios to preview his February 21, 2017 quintet performance at Jazz Live San Diego celebrating the life of Jazz great Tadd Dameron [TICKETS / INFO] . Paul gives us a quick bio of Tadd Dameron, teases the special, little-heard music the quintet will be featuring on Jazz Live, and provides some background, along with a musical selection, of Tadd Dameron with John Coltrane.
Paul Combs Jazz Live San Diego Preview Video


Welcome to the Sunday, January 15, 2017 installment of The Jazz 88 Round Up on KSDS San Diego's Jazz 88.3 and Jazz88.org. On the January 15, 2017 installment of the Round Up, we look back at this week's Jazz Live San Diego featuring the Mark Dresser Quintet, the 2017 kick-off of the Jazz at the Jacobs series by the San Diego Symphony spotlighting West Coast Jazz, along with what was trending on Jazz 88 Social Media. We take a look at what's happening on the Live Music scene in San Diego from the Jazz88.org San Diego Jazz and Blues Calendar, what you will be hearing on your radio this week, and what's up ahead for Jazz. So, lets get to the Round Up!
Now, on with the Jazz 88 Round Up....

February is Black History Month and Jazz Live will be celebrating one of the architects of modern jazz composition and orchestration, Tadd Dameron. The concert will be TONIGHT at 8pm and it will feature saxophonist and the world's foremost expert on Tadd Dameron, Paul Combs. His quintet along with special guest, pianist Bill Cunliffe will be playing Tadd's compositions all night long for this very special evening of music. If you are a valid Jazz 88 member you can reserve up to 2 free tickets in the Speakeasy. For the general public you can purchase tickets for $10 by calling 619-388-3301. The parking pass needs to be printed and displayed. MORE ON SHOW...

Welcome to the Sunday, January 8, 2017 installment of The Jazz 88 Round Up on KSDS San Diego's Jazz 88.3 and Jazz88.org. On our first Round Up of 2017, we look back at how we rang out 2016 with New Years Eve Across America and our renewed partnership with the La Jolla Athenaeum for their 2017 Jazz Series at The Library and Art Center, along with what was hot on Jazz 88 social media. We take a look at the upcoming week of Live Jazz and Blues in San Diego which includes the highly-anticipated Mark Dresser Quintet at Jazz Live San Diego Tuesday, January 10, what's planned for broadcast this week on your station, and a look at head at 2017
Now, on with the Jazz 88 Round Up....

Jazz 88.3 is very proud to support the Athenaeum's 2017 season at the Library and Art Center. Up next: Claudia Villela and Vitor Goncalves (March 11th) the Art Center, followed by the Clayton Brothers Quintet (March 20th), the Joe Lovano Classic Quartet (April 7th) and Bill Charlap and Renee Rosnes (May 9th)--all at TSRI Hall. The Athenaeum is a 501(c) 3 and is devoted exclusively to music and art! To become a member of the Athenaeum and/or for more information, simply click here! MORE ON THE SERIES' ARTISTS...

Happy New Year to all our Jazz and Blues lovers! It was a great year of music. Music Director, Joe Kocherhans culled his list down to a mere 10. See below for his Top Ten selections. We hope you have a great and jazzy new year.




It's been another great year of music and we can't think of a better way to end it than with a live concert to welcome in the new year. Join us on TONIGHT at 8PM (pacific) for a special live program. Tim Pinch and Inside Jazz, in association with KSDS-FM presents "New Year's Eve Across America." It will feature some of the greatest jazz musicians around today including Bob McChesney, Doug Webb, Brandon Fields, Scott Whitfield Calbria Foti, Steve Hufsteter, Carl Saunders and other special guests.

Chase Morrin comes back to friends and family in San Diego for the holiday in the midst of another milestone year, after completing 4 years at Harvard and the New England Conservatory (NEC), a 5th year for a Master at NEC, and half way through a year at the Berklee College of Music. With a a pair of new releases in his gift bag, "Turtle", with his longtime trio, and "The Corn Night", a piano-marimba duo, he stopped by the Jazz 88 studios to talk with The Jazz 88 Round Up host Vince Outlaw about the journey from San Diego North County's Canyon Crest Academy, mentoring and collaboration with world-renowned performers and educators, his new music, and what's next!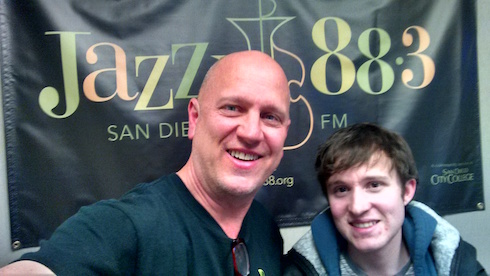 Check out the Jazz 88 Speakeasy Audio, Jazz 88 YouTube Channel video, pics and more...

What a terrific way to kick off 2017's Jazz Live season. Acclaimed bassist and composer Mark Dresser will be here at City College TONIGHT at 8pm bringing a terrific quintet with him. Nicole Mitchell on flute, Michael Dessen on trombone, Kjell Nordesen on drums and San Diego's very own, Joshua White on piano. Mark will be featuring compositions off of his new release, "Sedimental You." If you are part of the general public and would like to purchase tickets you can all 619-388-3301. In any case, please use the parking pass if/when you arrive for the show.

Welcome to the Sunday, December 11, 2016 installment of The Jazz 88 Round Up on KSDS San Diego's Jazz 88.3 and Jazz88.org. This Week on The Jazz 88 Round Up, Geoffrey Keezer and Gillian Margot are coming to the Saville Theater on the San Diego City College Campus for Jazz Live San Diego this coming Tuesday, December 13, from 8 to 10 pm PT and we've got a preview! Also, more on our Cruise to Cuba, Jazz 88 Arts Partners programs, the past week's social media highlights, the coming week on the San Diego Jazz and Blues Calendar, Previews of upcoming Jazz 88 On-Air shows, Next Week's Artist of the Week, and More.
A reminder, coming up right after the Round Up is San Diego Sessions Live, featuring the December 3 concert by guitarist and vocalist Camila Meza presented by your Jazz 88.3 Underwriter Athenaeum Music and Arts Library at Bread & Salt in Barrio Logan.
Now, on with the Jazz 88 Round Up!
READ THE ENTIRE ARTICLE FOR SHOW DETAILS...
City College Student Radio
KSDS HD2
Listen Live
Pat Launer's Center Stage