Jazz 88.3 Blog

Peter Sprague
will kick off his
Sanctuary Suite
,
TONIGHT
at
7PM
at the
Oceanside Museum of Art
! It's your chance to take a trek into the soundscape explorations of world music-inspired jazz! Sprague's Sanctuary Suite is a newly commissioned piece by
Camarada
that's grounded in the rich and diverse music of refugees who have found their haven in San Diego. The pure African 6/8 rhythm of Uluwatu sonically expresses the epic waves of this legendary region of Bali. Further global expedition leads the listener to a South American samba, Voltar Para Casa, which conjures up a vision of "riding in the back of a pickup truck on a Brazilian country road, heading back home through the jungle." Happily expressing Peter's music is Camarada's own jazz quintet – Peter Sprague (guitar), Fred Benedetti (guitar), Beth Ross Buckley (flute), Gunnar Biggs (bass) & Duncan Moore (percussion). Camarada now invites you to find your sanctuary in this suite of music. To purchase tickets, click
here
!

Jazz 88.3 is proud to support
2Cellos
! These two young Croatian cellists, who will grace the
Copley Symphony Hall
stage
TONIGHT
at
7:30PM
, have achieved international success by taking the cello to a new level with their incredible talent and undeniable passion. Their playing style has broken down the boundaries between different genres of music, ranging from Jazz to classical. 2Cellos have no limits when it comes to performing live so this is certainly one show you won't want to miss! For more information, or to purchase tickets, click
here
!

KSDS-FM, San Diego's Jazz 88.3 has a new Jazz and Blues program schedule! We invite you to check it out as it is filled with plenty of new (and familiar) programs. We encourage you to tune in and give it a listen. If you want to check out the latest program just go to the Speakeasy. As always, thank you for your support!

Saturday, April 9, KSDS will bring the curtain up on a whole new lineup of weekend programming, with some old favorites and new shows as well. Join us next Saturday for the new sound of Jazz and Blues on Jazz 88.3, KSDS.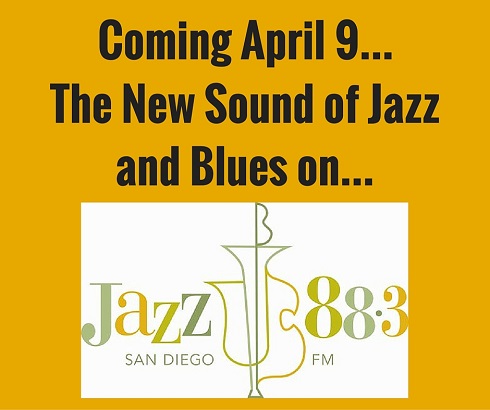 San Diego's KSDS-FM Jazz 88.3 celebrates Jazz Appreciation Month April 2016 with Smithsonian Jazz with some fantastic events to highlight "the extraordinary heritage and history of jazz", shining a spotlight on the role of Jazz in San Diego in the past, present, and future.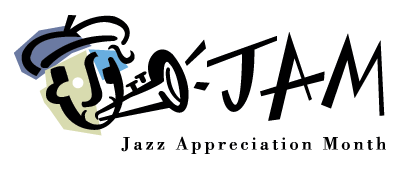 READ THE ENTIRE ARTICLE
for details on just some of the events planned to celebrate Jazz Appreciation Month 2016 and the month's featured artist!

"DAVE ANDERSON'S BLUE INNUENDO"
CHERYL BENTYNE – "LOST LOVE SONGS"
MICHAEL BLAKE – "FULFILLMENT"
BILL CHARLAP TRIO – "NOTES FROM NEW YORK"
GEORGE COLEMAN – "A MASTER SPEAKS"
MATT CRISCUOLO – "THE DIALOGUE"
JON CROWLEY – "I WALK AMONGST THE HUMANS"
ELI DEGIBRI – "CLIFF HANGIN'"
MARTY ELKINS – "WALKIN' BY THE RIVER"
JACKIE GAGE – "SIREN SONGS"
SOCRATES GARCIA – "BACK HOME"
HIROMI – "SPARK"
KARL LATHAM – "LIVING STANDARDS"
ALLISON MILLER'S TIC BOOM – "OTIS WAS A POLAR BEAR"
JASON MILES – "TO GROVER WITH LOVE: LIVE IN JAPAN"
BRUCE TORFF – "DOWN THE LINE"
YELLOWJACKETS – "COHEARANCE"
READ THE FULL ARTICLE
for links to artists websites, release reviews, and additional listening notes from the Jazz 88 Music staff....

San Diego School of Creative and Performing Arts' Jazz Ensemble has been chosen to go to New York City to compete in the "Essentially Ellington Swing Competition," May 5-7th. This band is one of only 15 bands chosen throughout the United States and Canada to compete. Please help these kids and DONATE to their cause for their journey to NYC! Here's more information about the band. Speaking of the band, they will be performing HERE AT CITY COLLEGE (Saville Theatre) TONIGHT (on Duke Ellington's Birthday). WE ARE BROADCASTING LIVE NOW (FOR A ONE HOUR PERFORMANCE). This event is FREE to the public. If you do head down use the parking pass. Again, it is our pleasure to offer our support to these talented kids...PLEASE DONATE!

Saxophonist Joe Marillo passed away on Saturday, March 26, 2016. Jazz and Passion were in his every breath. Those who knew him, studied with him, or even just heard him play one time, know this as fact. He will be missed. His family will hold a nonmusical Celebration of Life at Java Joe's on Monday, April 4, at 6:00pm. Also, a Birthday Tribute to Joe Marillo will be held Tuesday, May 24, at Dizzy's. This event, which will include a jam session at some point, begins at 7:30pm.

Happy Hour Goers--please note that our monthly Happy Hour at the Lafayette Hotel is on hiatus for a bit! We hope to continue the event in the near future and will surely let you know well ahead of time when it's back in full-swing. To all the happy hour faithful, we thank you for the support over the last few years. We'll see you soon!

House of Blues
is pleased to support
Jazz 88.3's Summer Jazz Workshop
in partnership with
Francis Parker School
. The 6th annual jazz workshop is open to middle and high school students and will be held at Francis Parker School
July 11th-25th
(in two-week sessions). The program includes lessons in performance, improvisation, theory and jazz history. Students will also perform at the HOB on the Saturday following each session. The Jazz 88.3 Summer Jazz Workshop is open to beginning, intermediate and advanced jazz students.
REGISTER NOW
!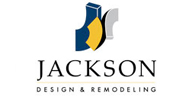 City College Student Radio
KSDS HD2
Listen Live
Pat Launer's Center Stage