Cedar Walton, 2010 NEA Jazz Master and Jazz Live San Diego alumni, is the Jazz 88.3 Artist of the Week for January 12, 2015. You will be hearing his music, hand-picked by your Jazz 88 hosts all week!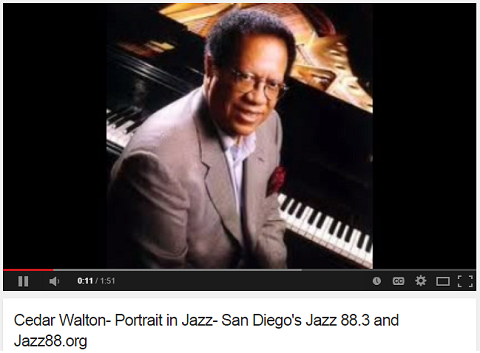 Joining Cedar in the spotlight this week, on
Portrait in Jazz from Noon to 1pm PT each weekday, we are featuring the following artists
:
Jay McShann - Monday, 1/12/15
Joe Pass - Tuesday 1/13/15
Cyrus Chestnut - Wednesday, 1/14/15
Jane Ira Bloom - Thursday, 1/15/15
Cedar Walton - Friday, 1/16/15
Read the entire article
for more on these great Jazz artists and your chance to Comment on your favorite tune, album, concert or other remembrance.