2014

LIVE Monday, October 6, 2014, 6-8 PM PT @Jazz88 San Diego's Jazz 88.3 FM, Jazz88.org, and Apple/Android Apps to The New Jazz Thing @Jazz88 with Vince Outlaw
...Supported by Listener Contributors like YOU and...YOUR BUSINESS (
learn more about underwriting The New Jazz Thing!
).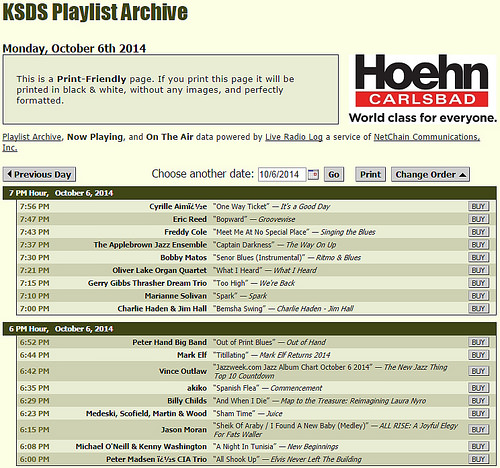 Jazz 88 Speakeasy (On-Demand, Click to Play): The New Jazz Thing (Entire Show), Monday, October 6, 2014 (coming soon)
Jazz 88 Playlist Archive for Monday, October 6, 2014 (scroll to 6-8PM for the shows paylist or check the screenshot)
Read the entire article
for links to the adds for the week, JAzzweek Top 10 Countdown, and more!

A wide mix of Jazz genres, including mainstream (instrumental and vocal), big band, latin, and a REAL TREAT of previously unreleased duet between Jazz Masters Charlie Haden and Jim Hall. And YOU can check out their Jazz 88 DEBUT on The New Jazz Thing @Jazz88, Monday, October 6 2014 between 6 and 8 PM PT! !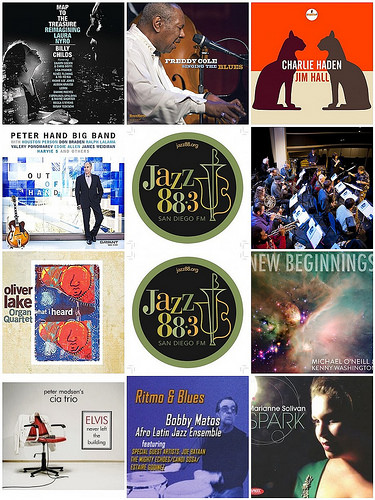 BILLY CHILDS – "MAP TO THE TREASURE"
FREDDY COLE – "SINGING THE BLUES"
"CHARLIE HADEN & JIM HALL"
PETER HAND BIG BAND – "OUT OF HAND"
DARREL KATZ & THE JCA ORCHESTRA – "WHY DO YOU RIDE?"
OLIVER LAKE ORGAN QUARTET – "WHAT I HEARD"
MICHAEL O'NEILL & KENNY WASHINGTON– "NEW BEGINNINGS"
PETER MADSEN - "ELVIS NEVER LEFT THE BUILDING"
BOBBY MATOS - "RITMO & BLUES"
MARIANNE SOLIVAN – "SPARK"
Read the entire article
for your additional annotations about this week's New and your chance to Comment on New Jazz!

The next Jazz Live is going to be killer. Guitarist Joshua Breakstone travels west and will be performing at the Saville Theater, Tuesday, October 14 at 8pm. He brings with him Marshall Hawkins on bass and special guest, Roy McCurdy on drums. 90 minutes never had it so good! Barry Farrar just spoke to Roy (hear the interview). Make sure to make reservations by calling 619-388-3037 and as always print that parking pass. See you there!

Art Blakey, an innovator for many styles of music and whose bands gave us several generations of Jazz greats, is the Jazz 88 Artist of the Week starting October 6, 2014. He was born October 11, 1919 in Pittsburgh, Pennsylvania. You'll be hearing his music all week at Jazz 88.3.




Here's our Artist of the Week summary from the Art Blakey Portrait in Jazz that will be featured this week at noon.








Read the entire article
for your chance to leave a comment and for more links and information out our Artist of the Week, Art Blakey!

Sometimes there is no difference between hearing and thinking about the music.
Charles Lloyd has a new two disc set of 1965 concerts, six tunes of length and intensity. Jazz at it's finest.
Saxophonist David Borgo has a new disc loaded with talent and modern ideas.
J. Otis gets nostalgic when he hears Horace Tapscott because J. Otis was there back in the day when the music was still in the cauldron. The Dark Tree
Thanks for listening

Sorry for the delay...
Mama Tokus came to the station to interview with J. Otis Williams. I can say without hesitation that she is a showstopper.
Complete memory wipe until today, the 5th of October, as I prepare the post for the 2nd.
The Collective We bravely fought La Jolla traffic to get to Bird Rock Coffee Roasters yesterday. Mama Tokus and Robin Henkel were bluesy and raucous and had a scene going on, regardless of who was paying attention. Mama told us about Totnes Town Transition, which completely added another dimension to her luminescence.

LIVE Monday, September 29, 2014, 6-8 PM PT @Jazz88 San Diego's Jazz 88.3 FM, Jazz88.org, and Apple/Android Apps to The New Jazz Thing @Jazz88 with Vince Outlaw
...Supported by Listener Contributors like YOU and...YOUR BUSINESS (
learn more about underwriting The New Jazz Thing!
).
Read the entire article
for links to the complete list of the New Adds This Week, Top 10 Jazzweek.com Countdown, Recent TNJT Interview Highlights and more!

The San Diego Music Awards
are right around the corner! They're taking place
TONIGHT
at
7PM
at
Humphrey's
.
Jazz 88.3's
very own
Claudia Russell
,
Ron Dhanifu
,
J. Otis Williams
and
Janine Harty
will be there to present the Blues and Jazz awards, appropriately. Performers include
Joshua White
,
Robin Henkel
&
Whitney Shay
,
Euphoria Brass Band
, and
Tomcat Courtney
, just to name a few! For more info, click
here
!

The
Blues Jam, hosted by J. Otis Williams,
is in full-swing and happens
every
Wednesday night at
Proud Mary's
(located at the Ramada Inn: 5500 Kearny Mesa Road, 92111) from
6:30-9:30pm
. Each week we feature special guests so dust off your instruments and plan to attend!
7/18- Michele Lundeen, 7/25- Steve Pandis, 8/1- Will Lee Brown, 8/8- Len Rainey, 8/15- Aubrey Fay, 8/22- Ruby, 8/29-Benji Davis.

One of the first innovators on the bass during the be-bop era, Oscar Pettiford is San Diego's Jazz 88.3 Artist of the Week for the week of September 29, 2014. You'll be hearing his music all week at Jazz 88.3 and he will be the feature during the Noon PT Portrait in Jazz feature on the 92nd Anniversary of his birth in Okmulgee, OK, September 30, 1922. He passed away at the age of 37 in Copenhagen, Denmark on September 8, 1960.





Read the entire article for more information on the great innovator in Jazz and leave your comment about Oscar Pettiford.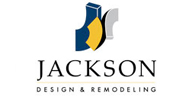 Support Jazz 88.3
while you shop at
Pat Launer's Center Stage