Jazz 88.3 Blog

Your ears will be overflowing with 23 new Jazz music releases the week of May 18, 2015 in this Jazz Live San Diego Week (Kronomorfic, Tuesday, May 19, 2015 8-10pm PT) with the latest releases by former performers at our monthly concert and radio show Joshua Breakstone (Jazz Live 4/14/14, new "2nd Avenue") and Billy Mintz (JL 10/8/13, new "The 2nd Bass Band...Live").
Jazz 88.3 hosts will be introducing you to these new releases all week, so
Listen Long, Often, and LIVE at 88.3 FM San Diego and Worldwide at Jazz88.org
! You can check out the debut of all the new releases each week on
The New Jazz Thing with Vince Outlaw, Monday evenings 6-8pm PT
.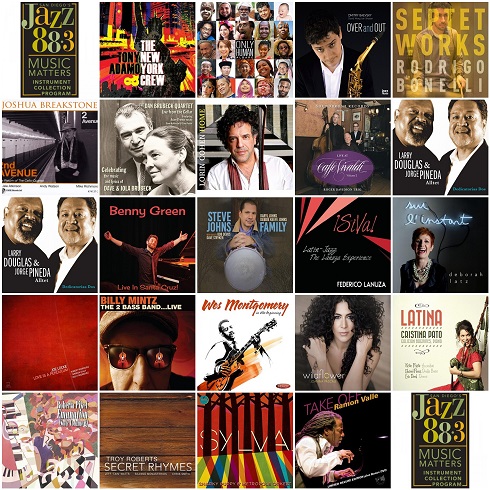 TONY ADAMO – "THE NEW YORK CREW"
ALBARE – "ONLY HUMAN"
DMITRY BAEVSKY – "OVER AND OUT"
RODRIGO BONELLI – "SEPTET WORKS"
JOSHUA BREAKSTONE – "2ND AVENUE"
DAN BRUBECK QUARTET – "CELEBRATING THE MUSIC OF DAVE AND IOLA BRUBECK"
LORIN COHEN – "HOME"
ROGER DAVIDSON TRIO – "LIVE AT CAFFE VIVALDI"
LARRY DOUGLAS & JORGE PINEDA ALLTET – "DEDICATORIAS DOS"
EUGENIE JONES – "COME OUT SWINGIN'"
BENNY GREEN – "LIVE IN SANTA CRUZ"
STEVE JOHNS – "FAMILY"
FEDERICO LANUZA – "ꜟSIVA!"
DEBORAH LATZ – "SUR L'INSTANT"
JOE LOCKE – "LOVE IS A PENDULUM"
BILLY MINTZ – "THE 2 BASS BAND…LIVE"
WES MONTGOMERY – "IN THE BEGINNING"
JOANNA PASCALE – "WILDFLOWER"
CRISTINA PATO – "LATINA"
ROBERTA PIKET – "EMANATION-SOLO: VOLUME 2"
TROY ROBERTS – "SECRET RHYMES"
SNARKY PUPPY & METROPOLE ORKEST – "SYLVA"
RAMON VALLE – "TAKE OFF"
READ THE FULL ARTICLE for links to artists websites and social networks, release reviews, and additional listening notes from the Jazz 88 Music staff....

A recent addition to the Mole Programming Portfolio is the refreshing Progressive Nights: Friday Vibe. Somehow relaxed compared to Free Time, Thursday at 10pm, there is still the same appreciation of the form but the shape is different. Friday Vibe at 10pm

Blues legend B.B. King passed away in his sleep on Thursday, May 14. B.B. was a nickname for "Blues Boy" and he definitely lived up to that monicker. B.B.'s playing style was so straight-forward yet so unique with his signature vibrato. He was quoted as saying "I wanted to connect my guitar to human emotions." As a frequent visitor of San Diego B.B. enjoyed playing venues like the Belly Up and House of Blues. He also was involved in charity work in San Diego as an ambassador for Photocharity, a non-profit that houses homeless youth. He would autograph guitars (that looked similar to his 'Lucille') and othe memorabilia that would be auctioned off for the benefit of the charity. His smile was infectious and his appeal crossed over many generations and genres of music. Rest in peace King.

B.B. King, an icon and world wide ambassador for the Blues, has passed away on Thursday, May 14, 2015 at 9:40pm in his sleep at his home in Las Vegas, the San Diego UT is reporting in a long and heart-felt remembrance by George Varga, who had written about B. B.'s many trips to San Diego. "The thrill is gone for millions of music fans around the world", he begins, using the title from a signature piece from King's over 6 decade career in music. At San Diego's Jazz and Blues 88.3, we send out condolences to the family of B. B. King and to his fans and supporters world-wide. READ ON as Blues 88.3 hosts, listeners, and supporters remember B.B. King.

Clearly I'm no correspondent. Too long since the last entry is one way to look at it. Lucky to be standing is the dramatic way to look at it. New studio and delivery system has everything going sideways but forward. Muscle memory disruption is like learning to walk, or is it complacency crumbling away from decades status quo? Hey man, it's a computer.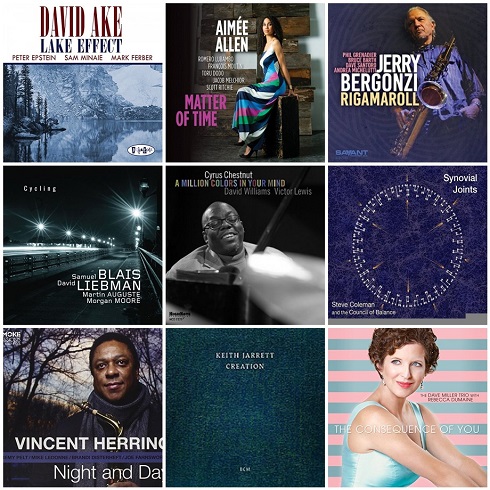 DAVID AKE – "LAKE EFFECT"
AIMEE ALLEN – "MATTER OF TIME"
JERRY BERGONZI – "RIGAMAROLL"
SAMUEL BLAIS / DAVE LIEBMAN – "CYCLING"
CYRUS CHESTNUT – "A MILLION COLORS IN YOUR MIND"
STEVE COLEMAN – "SYNOVIAL JOINTS"
VINCENT HERRING – "NIGHT AND DAY"
KEITH JARRETT – "CREATION"
DAVE MILLER TRIO W/ REBECCA DUMAINE – "THE CONSEQUENCE OF YOU"
READ THE FULL ARTICLE for links to artists websites and social networks, release reviews, and additional listening notes from the Jazz 88 Music staff....

LIVE Monday, May 11, 2015, 6-8 PM PT @Jazz88 San Diego's Jazz 88.3 FM, Jazz88.org, and Apple/Android Apps to The New Jazz Thing @Jazz88 with Vince Outlaw
...Supported by Listener Contributors like YOU and...YOUR BUSINESS (
learn more about underwriting The New Jazz Thing!
).
GET SOCIAL @TNJT on Facebook and Twitter.
Tonight on the show...Interviews with Archive Thompson, Pastor Jerry Andrews, and Robert Dove with new CDs and Release concert news, what's coming up this week in your ears, on Jazz88.org, and in Jazz, along with the debut of all the new Jazz music being released into the Jazz 88.3 music library the week of May 11, 2015. LISTEN LIVE!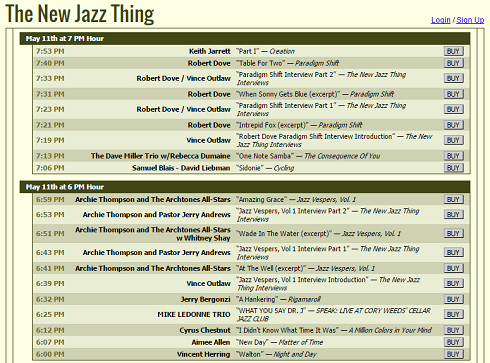 READ THE FULL ARTICLE for further info and links to everything that NEW on The New Jazz Thing!

One of the best things I find out in the interviews I have the honor of doing on The New Jazz Thing or as part of Jazz Live San Diego, or just in talking with Jazz and music lovers I come across is the influence of their family and upbringing on what they love as their passion and/or do as their livelihood. And while having a talented Jazz Mom may give you a little step-up in following in her footsteps, there are many other ways that our parents, and Mom's in particular as we head toward Mother's Day 2015, have put us on the path toward the music we love and play and listen to day in and day out. My Mom, in particular, made sure that we listened to big string orchestrated music which I think directly led to my liking of both small ensembles with strings and to the complexity that can come with large ensemble Jazz music.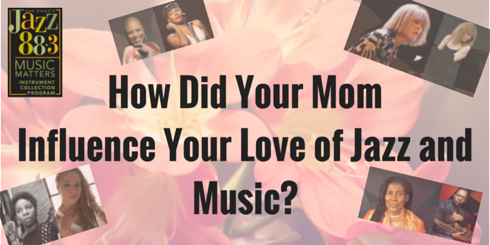 READ THE FULL ARTICLE for remembrances shared by Jazz 88 members, listeners, and staff...and Happy Mother's Day!

As Missy Andersen prepares, San Diego Blues Fans hope, to take away the Best Soul Blues Female Artist award at the Blues Foundation's Blues Music Awards tonight on Memphis, we'd like to salute her recent performance at Jazz Live San Diego on Tuesday, April 21, 2015 with some of the audio, video, pictoral, and social highlights from the show!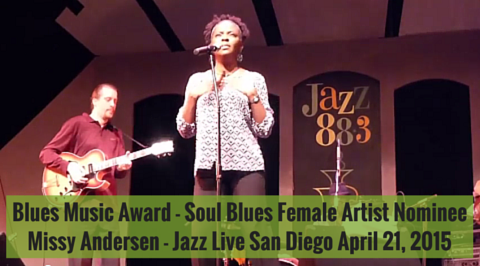 READ THE FULL ARTICLE to relive the show!

It's Gator By The Bay time again and San Diego's Jazz and Blues 88.3 is pleased to be hosting the KSDS Jazz 88 Festival Stage featuring a great musical gumbo of blues, zydeco, honky tonk, boogie woogie, and more from opening night Thursday with BeauSoleil to Mother's Day Sunday close with Brian Jack & The Zydeco Gamblers. Some of your favorite Jazz 88.3 Jazz, Blues, and Second Line on-air hosts at will be keeping the party moving all weekend, so get down to Spanish Landing, Say Hi, and Let The Good Times Roll! Read on for the full list of performers on the KSDS Jazz 88 Festival Stage at the east end of Gator, near the Sheraton! READ THE FULL ARTICLE for full Festival Stage lineup and additional key links!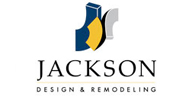 City College Student Radio
KSDS HD2
Listen Live
Pat Launer's Center Stage