Jazz 88.3 Blog

The next Jazz Live is going to be killer. Guitarist Joshua Breakstone travels west and will be performing at the Saville Theater, Tuesday, October 14 at 8pm. He brings with him Marshall Hawkins on bass and special guest, Roy McCurdy on drums. 90 minutes never had it so good! Barry Farrar just spoke to Roy (hear the interview). Make sure to make reservations by calling 619-388-3037 and as always print that parking pass. See you there!

Art Blakey, an innovator for many styles of music and whose bands gave us several generations of Jazz greats, is the Jazz 88 Artist of the Week starting October 6, 2014. He was born October 11, 1919 in Pittsburgh, Pennsylvania. You'll be hearing his music all week at Jazz 88.3.




Here's our Artist of the Week summary from the Art Blakey Portrait in Jazz that will be featured this week at noon.








Read the entire article
for your chance to leave a comment and for more links and information out our Artist of the Week, Art Blakey!

Sometimes there is no difference between hearing and thinking about the music.
Charles Lloyd has a new two disc set of 1965 concerts, six tunes of length and intensity. Jazz at it's finest.
Saxophonist David Borgo has a new disc loaded with talent and modern ideas.
J. Otis gets nostalgic when he hears Horace Tapscott because J. Otis was there back in the day when the music was still in the cauldron. The Dark Tree
Thanks for listening

Sorry for the delay...
Mama Tokus came to the station to interview with J. Otis Williams. I can say without hesitation that she is a showstopper.
Complete memory wipe until today, the 5th of October, as I prepare the post for the 2nd.
The Collective We bravely fought La Jolla traffic to get to Bird Rock Coffee Roasters yesterday. Mama Tokus and Robin Henkel were bluesy and raucous and had a scene going on, regardless of who was paying attention. Mama told us about Totnes Town Transition, which completely added another dimension to her luminescence.

LIVE Monday, September 29, 2014, 6-8 PM PT @Jazz88 San Diego's Jazz 88.3 FM, Jazz88.org, and Apple/Android Apps to The New Jazz Thing @Jazz88 with Vince Outlaw
...Supported by Listener Contributors like YOU and...YOUR BUSINESS (
learn more about underwriting The New Jazz Thing!
).
Read the entire article
for links to the complete list of the New Adds This Week, Top 10 Jazzweek.com Countdown, Recent TNJT Interview Highlights and more!

The San Diego Music Awards
are right around the corner! They're taking place
TONIGHT
at
7PM
at
Humphrey's
.
Jazz 88.3's
very own
Claudia Russell
,
Ron Dhanifu
,
J. Otis Williams
and
Janine Harty
will be there to present the Blues and Jazz awards, appropriately. Performers include
Joshua White
,
Robin Henkel
&
Whitney Shay
,
Euphoria Brass Band
, and
Tomcat Courtney
, just to name a few! For more info, click
here
!

The
Blues Jam
is in full-swing and happens
every
Wednesday night at
Proud Mary's
(located at the Ramada Inn: 5500 Kearny Mesa Road, 92111) from
6:30-9:30pm
. Each week we feature special guests so dust off your instruments and plan to attend!
Here's the schedule: 3/29- Whitney Shay and Robin Henkel, 4/5- Missy Andersen, 4/12- Benji Davis, 4/19- Stoney B, 4/26- Mark Meadows.

One of the first innovators on the bass during the be-bop era, Oscar Pettiford is San Diego's Jazz 88.3 Artist of the Week for the week of September 29, 2014. You'll be hearing his music all week at Jazz 88.3 and he will be the feature during the Noon PT Portrait in Jazz feature on the 92nd Anniversary of his birth in Okmulgee, OK, September 30, 1922. He passed away at the age of 37 in Copenhagen, Denmark on September 8, 1960.





Read the entire article for more information on the great innovator in Jazz and leave your comment about Oscar Pettiford.

This week's Adds to the Jazz 88.3 Music Library look to be loaded with female vocalists (6 out of 12 releases), but there are also some interesting instrumentation with releases bass clarinet, guitar and harmonica, and even a new set featuring San Diegan's in an adventurously-timed outing.
And YOU can check out their Jazz 88 DEBUT on The New Jazz Thing @Jazz88, Monday, September 29 2014 between 6 and 8 PM PT! ! (UPDATE: Hear the Jazz 88 Speakeasy replay of the 9/29/14 TNJT to hear all of these New Jazz Things!)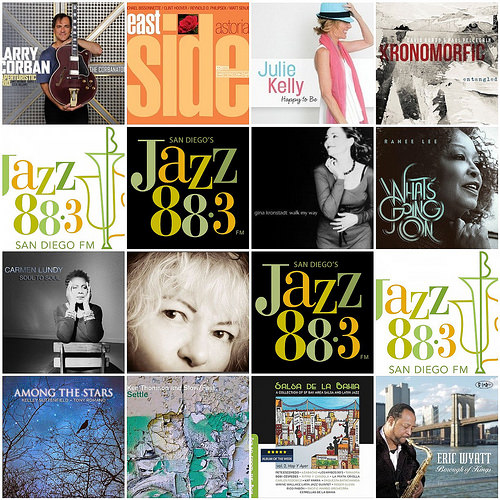 LARRY CORBAN & THE APERTURISTIC TRIO – "THE CORBANATOR"
EAST SIDE – "ASTORIA"
JULIE KELLY – "HAPPY TO BE"
KRONOMORFIC /DAVID BORGO & PAUL PELLEGRIN – "ENTANGLED"
GINA KRONSTADT – "WALK MY WAY"
RANEE LEE – "WHAT'S GOING ON"
CARMEN LUNDY- "SOUL TO SOUL"
SHELLEY NEILL – "THE CURRENCY IS HEAT"
KELLEY SUTTENFIELD – "AMONG THE STARS"
KEN THOMSON AND SLOW/FAST – "SETTLE"
VARIOUS ARTISTS – "SALSA DE LA BAHIA, VOL.2: HOY Y AYER"
ERIC WYATT – "BOROUGH OF KINGS"
Read the entire article
for your additional annotations about this week's New and your chance to Comment on New Jazz!

A great mix of New Adds to the Jazz 88 Music Library for the week of September 22, 2014 with some standout collaborations including Otis Brown III with Robert Glasper, Gretchen Parlato, and others ("The Thought of You"); Michael Blake with Frank Kimbrough and Ben Allison ("Tiddy Boom"); and Jazz Educator extraordinaire Dave Liebman and his Big Band ("Tribute to Wayne Shorter")!
You can check out their Jazz 88 DEBUT on The New Jazz Thing @Jazz88, Monday, September 22, 2014 between 6 and 8 PM PT! !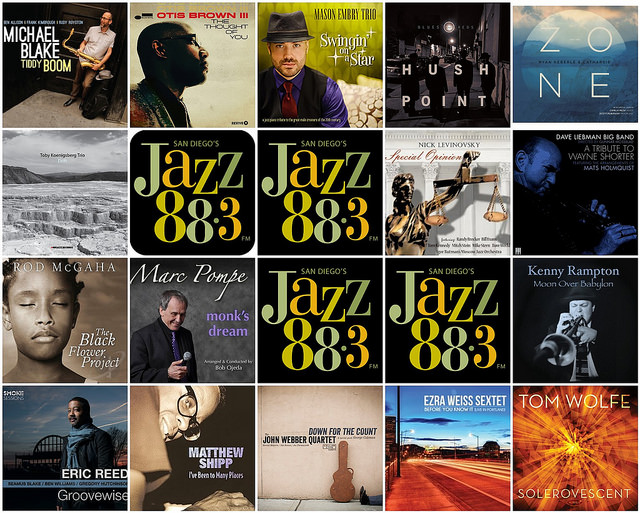 MICHAEL BLAKE – "TIDDY BOOM" (Sunnyside)
OTIS BROWN III – "THE THOUGHT OF YOU" (Blue Note)
MASON EMBRY TRIO – "SWINGIN' ON A STAR" (Burton Avenue)
HUSH POINT – "BLUES AND REDS" (Sunnyside)
RYAN KEBERLE & CATHARSIS – "INTO THE ZONE" (Greenleaf)
TONY KOENIGSBERG TRIO – "DRIFT" (NinJazz)
NICK LEVINOVSKY – "SPECIAL OPINION" (Butman Music)
DAVE LIEBMAN BIG BAND "TRIBUTE TO WAYNE SHORTER"(Mama)
ROD McGAHA – "THE BLACK FLOWER PROJECT" (Self-released)
MARC POMPE – "MONK'S DREAM" (Self-released)
KENNY RAMPTON – "MOON OVER BABYLON" (Self-released)
ERIC REED – "GROOVEWISE" (Smoke Sessions)
MATTHEW SHIPP – 'I'VE BEEN TO MANY PLACES" (Thirsty Ear)
JOHN WEBBER QUARTET – "DOWN FOR THE COUNT" (Cellar Live)
EZRA WEISS SEXTET – "BEFORE YOU KNOW IT" (Roark)
TOM WOLFE – "SOLEROVESCENT" (Summit)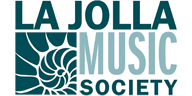 City College Student Radio
KSDS HD2
Listen Live
Pat Launer's Center Stage