Jazz 88.3 Blog

Heads-up
Jazz 88.3 Happy Hour goers
! Our monthly happy hour at the historic and newly renovated
Lafayette Hotel
will now take place on the
FIRST THURSDAY OF EVERY MONTH from 5-7:30PM
! So be sure to mark your calendars, grab your dancing shoes and plan to groove to great live music
TONIGHT(!)
with
Lower Left
, featuring Jazz 88.3's very own,
Barry Farrar
!
Also, please note
: There's a
$10 cover charge
(cash only!) and you
MUST be 21+
to attend! Oh, and if you're worried about parking, don't fret--there's an overflow parking lot (
FREE!
) on the corner of Howard and Texas Streets. We'll see you
TONIGHT
in the
Mississippi Ballroom
!
LIVE Monday, March 16, 2015, 6-8 PM PT @Jazz88 San Diego's Jazz 88.3 FM, Jazz88.org, and Apple/Android Apps to The New Jazz Thing @Jazz88 with Vince Outlaw

...Supported by Listener Contributors like YOU and...YOUR BUSINESS (

learn more about underwriting The New Jazz Thing!

).

Tonight on the show...BUT FIRST...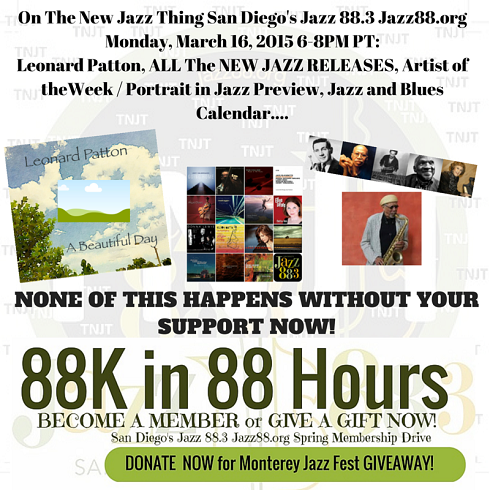 Legendary Jazz Drummer Jack DeJohnette adds his touch to the 50th Anniversary Celebration of the founding of the Association for the Advancement of Creative Musicians (AACM) with his new Jazz release "Made In Chicago", just one of the great New Releases to San Diego's Jazz 88.3 Music Library the week of March 16, 2015.
You can check out their debut each week on
The New Jazz Thing with Vince Outlaw, Monday evenings 6-8pm PT
and then your favorite Jazz 88.3 Hosts will be adding them to their playlists for YOU to enjoy and learn! But first...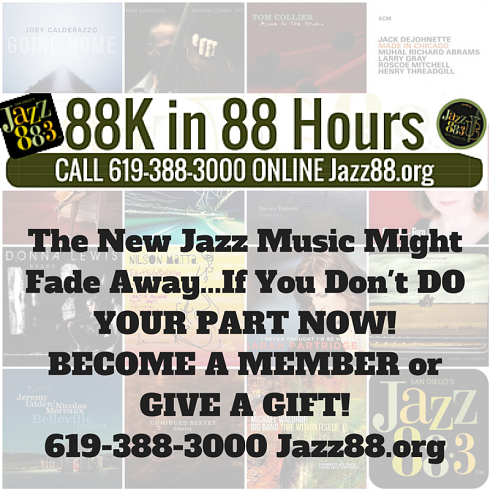 JOEY CALDERAZZO – "GOING HOME"
ROYCE CAMPBELL – "ROMANCING THE TONE"
AVISHAI COHEN TRIO – "FROM DARKNESS"
TOM COLLIER – "ALONE IN THE STUDIO"
JACK DeJOHNETTE – "MADE IN CHICAGO"
"AKUA DIXON"
MARK EGAN – "DIRECTION HOME"
STEVEN HOBERT – "OCEAN EYES"
ELLEN LaFURN – "C'EST LA-FURN"
DONNA LEWIS – "BRAND NEW DAY"
NILSON MATTA – "EAST SIDE RIO DRIVE"
SARAH PARTRIDGE – "I NEVER THOUGHT I'D BE HERE"
ERROL RACKIPOV GROUP – "PICTURES FROM A TRAIN WINDOW"
JEREMY UDDEN / NICOLAS MOREAUX – "BELLEVILLE PROJECT"
UNHINGED SEXTET – "CLARITY"
MICHAEL WALDROP BIG BAND – "TIME WITHIN ITSELF"
READ THE FULL ARTICLE for links to artist websites, social media, reviews and read Jazz 88.3 Music Director Joe Kocherhans additional annotations on the releases....
Charles Lloyd, Jazz saxophonist, composer, arranger, in his 6th decade of performing and who will receive his 2015 NEA Jazz Master recognition in April, 2015, is San Diego's Jazz 88.3 Artist of the Week for March 16, 2015. His life and music will be celebrated by Jazz 88.3 hosts all week. Ruby Braff, Tommy Flanagan, Lem Winchester, Harold Mabern, Marian McPartland will be the featured artists each weekday from Noon to 1pm PT on Portrait in Jazz with Joe Kocherhans. Before we share more information on these past and living Jazz legends....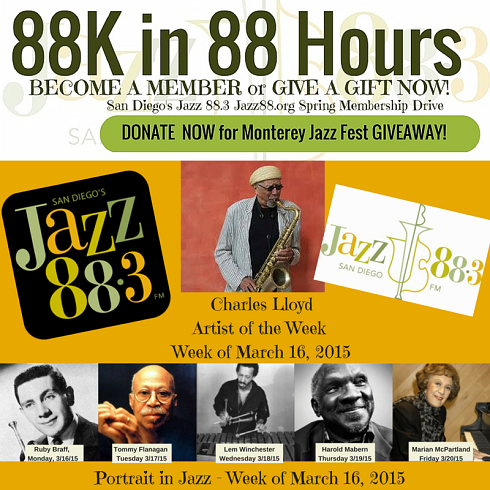 READ THE FULL ARTICLE for more on our featured artists...

Missy Andersen has been going strong since her teens and each day adds more momentum. Currently living in San Diego, she is nominated for Female Artist of the Year (Soul/Blues) for this year's Blues Music Awards. That makes TONIGHT'S SOLD OUT Jazz Live a homecoming showcase and a chance to see someone truly on the rise. Hear what the world knows, this deal is for real. Finally worked a hip layout for the parking permit so please print and bring.
This is Jazz! 2015, a partnership between the City of Carlsbad Cultural Arts Office and San Diego's Jazz 88.3, continues Saturday, March 14 at 4PM in Carlsbad City Library's Ruby G. Schulman Auditorium with a celebration of Women's History Month as San Diego's Queen of Boogie Woogie (and Jazz 88.3 weekend host) Sue Palmer and Jazz 88.3 host Janine Harty present "Women In Jazz".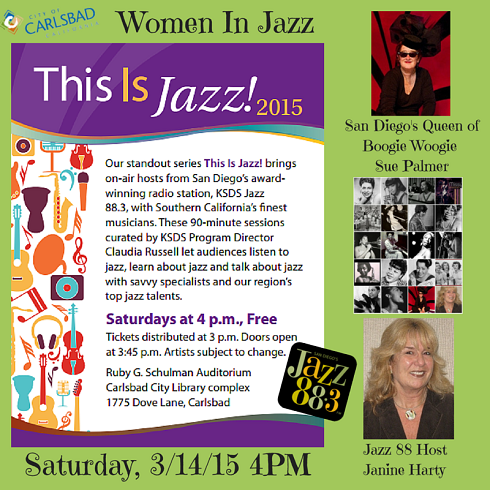 The New Grove Dictionary of Jazz
says ""Women have participated on every instrument, in every style, and in every era of jazz history. Yet, with the notable exception of singers and a number of pianists, female jazz musicians have been continuously overlooked in the most prestigious areas of jazz practice, marketing, and documentation." Sue and Janine attempt to set the record straight with a program illustrating, through both music and words, the contribution of women in Jazz from pre-1920's through today.
READ THE FULL ARTICLE
for images of some of the women to be featured along with more information...

Our "88K in 88 Hours" Pledge Drive has concluded. WE DID IT! THANK YOU! Congratulations to Clarence for winning the Nathan East autographed guitar and to our winners of the Monterey Jazz Festival trip. If you didn't get a chance to help out we sure can still use your support. Please call 619-388-3000 or MAKE A PLEDGE NOW.
The La Jolla Music Society and ArtPower! at UCSD are teaming up with San Diego's Jazz 88.3 Jazz 88.org to OFFER YOU FREE TICKETS to their upcoming performances!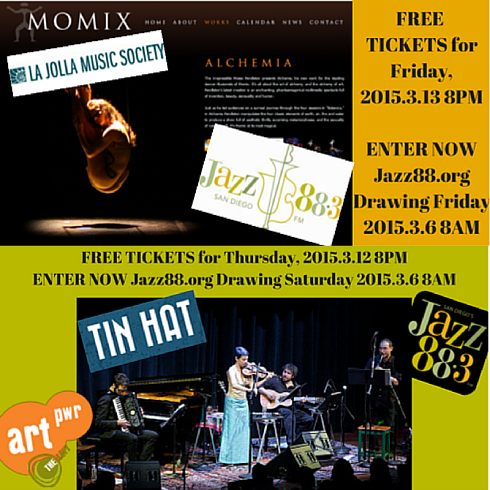 LIVE Monday, March 2, 2015, 6-8 PM PT @Jazz88 San Diego's Jazz 88.3 FM, Jazz88.org, and Apple/Android Apps to The New Jazz Thing @Jazz88 with Vince Outlaw
...Supported by Listener Contributors like YOU and...YOUR BUSINESS (
learn more about underwriting The New Jazz Thing!
). Tonight on the show...
Debuting The New Releases To Jazz 88.3 The Week of March 2, 2015 - Kenny G...Yes, THAT Mr. G...goes Brazillian, while Warren Vache remember the great Benny Carter and Jacky Terrason dishes out the Jazz medicine...and that's only a few of the NEW releases to the Jazz 88.3 Music Library for this first week of March, 2015.
Eddie "Lockjaw" Davis - Jazz 88 Artist of the Week
San Diego Jazz and Blues Calendar Preview - Jazz 88 Happy Hour Thursday with Besos de Coco and more in a look at what's happening this week in LIVE JAZZ IN SAN DIEGO!
Orrin Keepnews Dead at 91 - The Extraordinary Jazz Producer and NEA Jazz Master passed on Sunday, March 1 and will be remembered through the music he helped bring to us.
The Drum Thing, or, A Brief History of Whiplash, or, "I'm Generalizing Here"- I'm not sure where this post over at Do The Math, but if you want some perspective on Jazz drumming traditions and the dues that Whiplash still needs to pay, dig Ethan Iverson's generalization...I mean that in every good way ;) And, if nothing else, it makes for an interesting TNJT show logo tonight!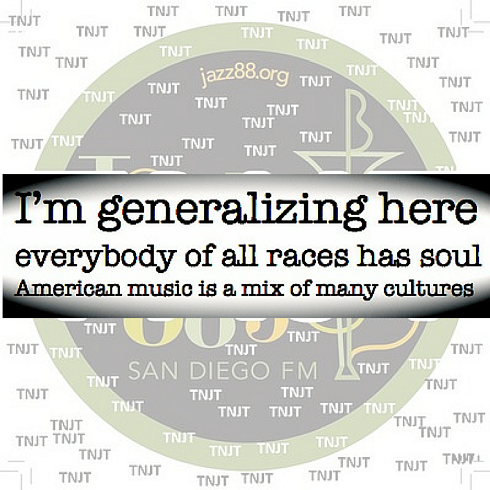 The music of Joe Garrison is finally getting the recognition it deserves. Quietly distilled into a dynamic form and now animated by like-minded adventurists, Garrison's compositions are in the spotlight for our next Jazz Live TONIGHT. Jazz 88.3 Members should reserve tickets online now. Also, the Parking Permit is here. 8pm in the Saville Theatre at City College. Can't make it? Listen online!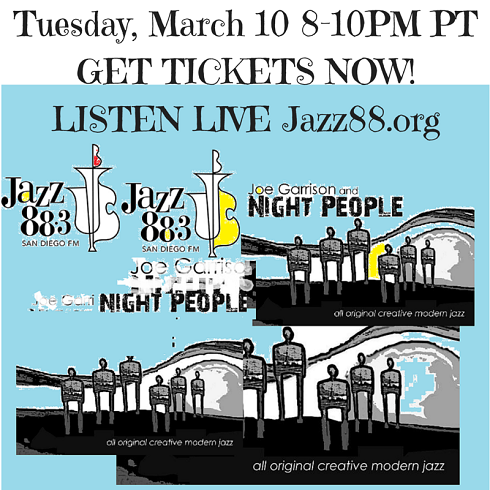 READ THE FULL ARTICLE
for pictures, audio, video, and more from the show....
Read full article at:
Joe Garrison Jazz Live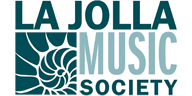 City College Student Radio
KSDS HD2
Listen Live
Pat Launer's Center Stage