Jazz 88.3 Blog

You won't want to miss one of summer's biggest street fairs--the
Imperial Avenue Street Festival
, happening
Saturday
,
August 26th
! The festival blends art and soul in one of San Diego's most historic and unique neighborhoods. The festival celebrates the rich history, arts, and culture of the Greater Logan Heights community. From its rich African-American roots to the strong Latino influence that exists today. The festival grooves to the sounds of live music from multiple stages. Browse the offerings of 4 blocks of local artists, crafts and enjoy gourmet food and beverages.
The Festival is held on Imperial Avenue between 28th & 30th and between "L" Street & Commercial Avenue
. The Imperial Avenue Street Festival, one of the oldest streets in San Diego, boasting a mix of businesses, restaurants, shops and local entrepreneurs. It continues to echo the music of its birth, transcending boundaries, embracing diversity, and celebrating personal style. The Imperial Avenue Street Festival is proudly hosted by
BAME Community Development Corporation
(
BAME CDC
)--a non-profit organization whose mission is to strengthening residents and businesses in Greater Logan Heights neighborhoods through community empowerment, education, economic growth, and housing development. Click
here
for more information!

For the first time in San Diego, award-winning trumpeter and composer David Buchbinder teams up with his crew of top jazz and world musicians, in partnership with
Havana Grill
, to present: "
Odessa/Havana: The Cuban-Klezmer Connection
" happening
Wednesday
,
August 23rd
at
7:30PM
at the
Garfield Theatre in University City
! For the first time in San Diego, trumpeter, composer and cultural innovator David Buchbinder teams up with Grammy-nominated Cuban piano master, Hilario Durán, and an 8-piece global ensemble of jazz greats to present an exhilarating project of musical discovery. This brilliant blend of two cultures will thrill fans of Latin, jazz and Jewish music alike. Get ready for a truly unique night of jazz-fusion! To purchase tickets, click
here
! (
Use the discount code
:
FAN18)
.

House of Blues' World-Famous Gospel Brunch returns, Sunday, August 20th! It's your chance to experience local talent performing both traditional and contemporary Gospel songs. Before and during the show treat yourself to an amazing all-you-can-eat buffet featuring breakfast favorites plus tender carving stations, southern specialties and mouth-watering desserts. Don't miss their signature chicken and waffles! And if you're in the mood, you just might end up on stage waving a napkin and dancing off some of that delicious cuisine! This is a great event for large parties and for the entire family. Discounts available for groups of 15 or more! To purchase tickets, click here!

Grammy® nominated violinist Regina Carter makes her La Jolla Music Society SummerFest debut, Saturday, August 19th at 8PM at UCSD's Department of Music's Conrad Prebys Concert Hall. The Los Angeles Times calls her "a talented, charismatic player who is almost single-handedly reviving interest in the violin as a jazz instrument." Wherever this Grammy® nominated violinist performs, she takes her audiences with her on a journey through tradition and creativity. An Evening with the Regina Carter Quartet is certainly one extraordinary summer concert you won't want to miss! For more information, or to purchase tickets, click here!

Jazz 88.3 is proud to support the 6th annual Baja Blues Fest, happening August 18th-20th at Rosarito Beach Hotel & Resort! Their mission and goals remain the same this year: To provide a fundraising opportunity for local qualifying Children's Charities in Baja California and expand the cultural activities of their area to help promote Northern Baja as a safe and fun place to visit. Their hope is to continue to bring North and South Rosarito closer together to share ideas and events so Rosarito becomes a stronger self-supporting municipality. The response to their first five festivals was absolutely tremendous and in turn, they have raised over $55,000 for local Children's Charities. This is a weekend full of great music, gorgeous scenery, delicious food--all to support a great cause! It's undeniably one experience you won't want to miss! To purchase tickets and/or reserve a hotel room, simply click here!

Maceo Parker will grace the Music Box stage, Saturday, August 19th at 8PM and if you haven't had your chance to see this acclaimed saxophonist, now's the time! The amazing P-funk Parker has been at it with his legendary sound for time that dates back to the 1960's. That's when Maceo and his drummer brother Melvin climbed on board the James Brown funky soul funk train. It wasn't long before James coined the solo summoning signature, "Maceo, I want you to Blow!". To most musicologists it's the musically fertile group of men from this period of James Brown's band who are recognized as the early pioneers of the modern funk and hip-hop whose sounds we still jump to in the present day. You truly don't want to miss this show. To purchase tickets, simply click here!

Jazz 88.3 is proud to support the 7th annual "Jazz In The Courtyard" featuring the Joshua White Trio and Archie Thompson & The ArchTones! This beautifully arranged concert takes place Saturday, August 5th at 5:30PM at First Presbyterian Church of San Diego (320 Date Street San Diego, CA, 92101). There's still plenty of time to purchase tickets; just click here! Food trucks will also be on-site, so come hungry! It's going to be one summer concert you simply won't want to miss!

The Caravan was a success. Thank you for attending!
We want to thank the below performers and venues for their participation. Stay tuned for details on the next Caravan. The venues and performers were as follows:
MORE ON MAP / CLUBS / ARTISTS / HOSTS...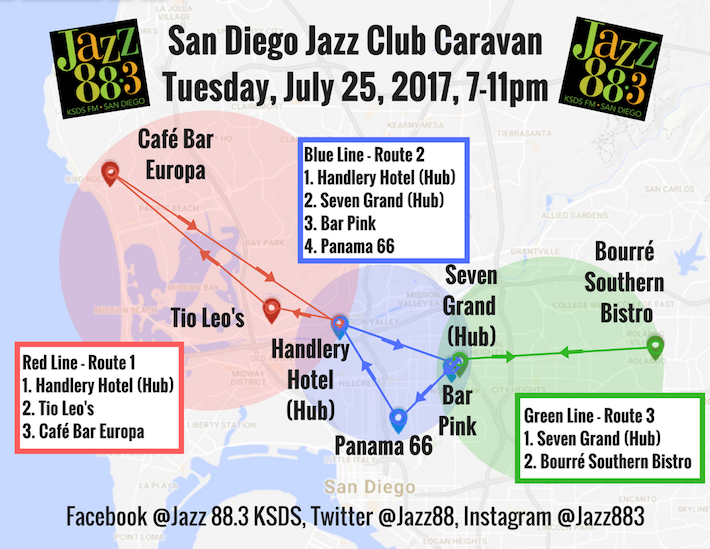 The inspiration and vision of Cafe Bar Europa, is to recreate the feeling of the small, local bars of southern Europe. Places where the people stop and gather, to hear the news, catch up with friends, relax and enjoy a coffee and a fine pastry or a small meal and a glass of wine. They are found in the countries that border the Western Mediterranean Sea, that same sea which has been named since ancient times as the Turquoise Sea, a sea that meets and mingles all upon its shores with the real and mythical, joyous and jubilant, serious and serene. Places where I saw more similarities than differences, and when seen as a whole, make up a region all its' own. "The Lands of the Turquoise Sea" – Basilio Ceravolo, owner and creator of Cafe Bar Europa.
Tio Leo's, with three convenient locations, has been one of San Diego's most loved Mexican Restaurants since 1979. Be sure to check out our Live Music at Tio Leo's Lounge on Napa Street where we feature live music, and salsa & swing dance nights! And for all of your special events, see our famous Mexican Catering Menu
.
The Handlery Hotel hosts the Jazz Happy Hour at in the 950 Lounge! San Diego's world-renowned Jazz Flutist and Presenter Holly Hofmann brings in world class musicians every Friday from 5:30-7:30PM. There's NO COVER CHARGE and parking is not only FREE, but it's bountiful! You can also enjoy a full bar and happy hour menu prices while you're there! What better way to kick off your weekend?!
Panama 66 at the San Diego Museum of Art - Gilbert Castellanos Presents: The Young Lions
The San Diego Museum of Art's Panama 66 is Zagat-rated as one of the hottest new beer bars in the country. Located in The San Diego Museum of Art's May S. Marcy Sculpture Court, Panama 66 features lunch and dinner, late hours, live music, and weekend brunch. Take in views of the Museum's May S. Marcy Sculpture garden and enjoy local craft beers on tap, exhibitions-themed cocktails, and locally-sourced seasonal sandwiches, salads, and entrees at Panama 66. Check out the Panama 66 Blog for calendar of events, photos, menu, and more!
Panama 66 has a Facebook Event For the San Diego Jazz Club Caravan, so let them know you are Going or Interested...and SHARE IT!
Gilbert Castellanos' Young Lions series came to Panama 66 in July 2015 after starting at Croce's West and has been showing off the Next Generation of Jazz every Wednesday since. Gilbert recently created the new Young Lions Jazz Conservatory as his next step in persuing where his "passion and heart and soul is."
Alongside hand-crafted cocktails, state-of-the-art beverage delivery systems, live music, pool tables and private party areas, Seven Grand San Diego is home to the ever-popular Whiskey Society; a unique membership program providing guests the opportunity to further explore the spirit via education and experimentation with comprehensive tastings featuring Master Distillers, International Brand Ambassadors, and notable members of the liquor industry.
- Daneen Wilburn with Kamau Kenyatta
Bourré Southern Bistro is located in the community of Rolando and serves Southern Creole favorites with a California fusion twist. What is Bourré? In French, Bourré means "stuffed" and when you dine with us, you will never leave hungry. Our menu includes many of the items one associated with New Orleans southern cuisine such as; fried catfish, jambalaya, gumbo and more. We invite you to visit Bourré for a delicious meal with the ambience and charm of New Orleans.
Bar Pink is an unpretentious cocktail lounge in North Park that features bubbles (in drinks and in decor) and live bands, with elephants plastered on the walls and a disco ball on dance nights. Play billiards, go dancing, or watch the live entertainment with a signature cocktail enhanced by Champagne. The primarily pink bar sells shot glasses, canvas totes, and tee shirts, so you can preserve your memories of your night among the bubbles and elephants forever. [Thrillst]

On the Tuesday, July 25, 2017 installment of Jazz In The Night Tuesday (Weekly, Midnight to 2 AM PT), the 2nd Annual San Diego Jazz Club Caravan is in the spotlight with music from many of the performers, including Steph Johnson, Rob Thorsen, Sue Palmer, Kamau Kenyatta, and Gilbert Castellanos, plus a musical rundown of the upcoming week on the San Diego Jazz and Blues Scene and upcoming Jazz and Blues Birthdays and On This Day in Jazz Milestones! LISTEN LIVE or Replay Jazz In The Night Tuesday any day of the week from the Jazz 88.3 Speakeasy!




READ ON for Music, Links, Birthdays, On This Day In Jazz and more...

Jazz Live
welcomes acclaimed pianist,
Alan Broadbent
, comes to the Saville Theatre with bassist,
Putter Smith
, TONIGHT! Lyrical and melodic, Alan's piano work will be on full display in this intimate, duo setting. If you are a current Jazz88 member you can reserve up to two free tickets in the
Speakeasy
. For the general public, you can call
Ken Borgers at 619-388-3301
to
become a member
or to purchase tickets. Thanks to
Big Front Door Sandwich Shop
for providing food for the Jazz Live artists. Remember, that good ole'
parking pass
and come hungry, as we'll have
food trucks on site before the show
!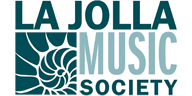 City College Student Radio
KSDS HD2
Listen Live
Pat Launer's Center Stage